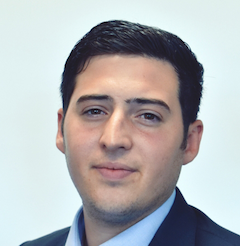 Malek Rahimi (pictured) has been crowned one of the youngest managing directors in the channel having taken the helm at Stratford-upon-Avon based BDR Group at the age of 26.
He joined the company 11 years ago, aged 15, as a Technical Support Engineer and has gone on to fulfil many roles including Head of Account Management and, most recently, Group Operations Director.
BDR Group Board Director John Donoghue commented: "The BDR Group board of directors truly believe that BDR is blessed to have a home-grown talent at such a young age capable of stepping into the role of MD.
"Talents such as Malek are rare, hence the speed with which the board is fast tracking and supporting Malek's development. We firmly believe there is a great deal more to come from Malek with such a wise young head on his shoulders."
 
Before becoming a director Malek worked in a variety of roles both in-house and in the field including technical support, cabling, engineering and fault diagnosis, marketing and lead generation, customer account management and sales.