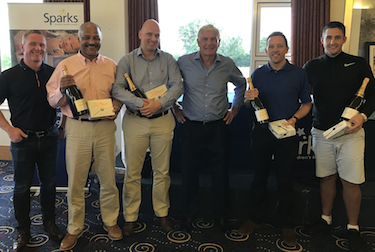 Former boxing superstar John Conteh still has the winning formula and helped golfers from TalkTalk Business secure top prize at this year's Comms Dealer/Sir Trevor Brooking Celebrity Classic held at The Oxfordshire, a spectacular new venue for the annual event.
But the real winners on the day were children's charity Sparks which netted £20,000 from the prestige event, which was kindly sponsored by TalkTalk Business.
"Despite some inclement weather it was a great day and we would like to thank TalkTalk Business, the other industry teams that played, plus of course Sir Trevor and all the Sparks celebrities who turned out to make the day such a success," said Comms Dealer Editorial Director Nigel Sergent.
The winning TalkTalk Business team, pictured with their trophies were Stuart Blackman, Aaron Tebbutt, Jeremy Woodrow and John Conteh.