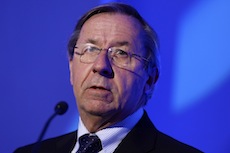 The stand-out entries in this year's European IT & Software Excellence Awards will also form the basis of a post-event promotional report that aims to showcase the innovation displayed by leading IT providers when delivering transformational solutions to their customers.
Event organiser and Comms Dealer sister publication IT Europa has set a February 23rd deadline for entries ahead of the awards night on April 19th in London.
"Several marketing and sales departments in channels and vendors have already registered and started their bids," stated IT Europa MD Alan Norman (pictured). "All entries are free and there are no restrictions on categories entered. The sole criteria is that either vendor, customer or project solution should have a European connection."
The report marks the tenth anniversary of these industry awards and it will be offered to IT leaders within businesses and public sector organisations across Europe to help them understand the many benefits of modern day ICT solutions.
"All finalists, winners and sponsors will feature in the digital supplement that will demonstrate their strength and innovation within the European IT software and solutions industry," explained Norman.
"With this promotional report IT Europa will tell the story of European IT and how it has transformed customers' operations."
Norman confirmed that the report will be marketed to over 40,000 European MSPs, VARs, SIs, ISVs, service providers, vendors, distributors, major client organisations and MEPs.
To make it easier for companies to enter the awards IT Europa is offering guidance and support.
For more information please visit: www.iteawards.com/categories