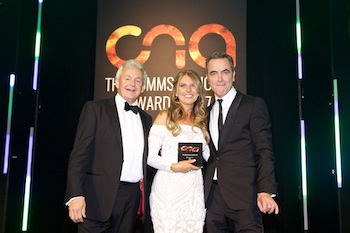 Passion and commitment was the recipe for success at this year's Comms National Awards ceremony held at London's Hilton on Park Lane.
The stars of the ICT channel were recognised and celebrated at the glittering event, hosted by TV actor James Nesbitt who had anything but 'Cold Feet' in winning over the gathering of industry heavyweights.
"This truly was a night the remember. The number of entries again broke all our records and the difference between a win and highly commended in many of the categories was tiny. I would like to thank everyone who entered and sponsored the awards and contributed to making it such a celebration of channel togetherness," said Comms Dealer Editorial Director Nigel Sergent.
This year's hall of fame saw Virtual1 founder and CEO Tom O'Hagan named Entrepreneur of the Year for turning a business he started in has kitchen 10 years ago into the 5th largest wholesale network in the UK with a turnover approaching £30m.
On the reseller side, Incom-CNS secured Enterprise Reseller of the Year for its NHS solutions and ICA picked up SME Reseller of the Year for its work with laser eye treatment specialist Optimax and its innovative approach to customer service.
Pictured: ICA's Pamela Blanchard collects the SME Reseller of the Year award
To see the full 2017 CNA hall of fame please visit our award winner picture gallery here 
http://cnawards.com/gallery.php
Award winners
• Best Mobile Network Provider: Daisy Wholesale
• Best Fixed Line Network Provider: Vaioni 
• Best Wholesale Service Provider (under £10m): Zest4
• Best Wholesale Service Provider (over £10m) turnover: Daisy Wholesale
• Best ISP: Entanet  
• Best SME Telephony System: Ericsson-LG
• Best Enterprise Telephony System: Ericsson-LG
• Best End Point or Device: Jabra
• Best Hosted Platform: TelcoSwitch
• Best Call Management Solution award: KCOM
• Best Billing Platform: Inform Billing
• Best Partner Portal: Plan.com
• Best Convergence Distributor: Siphon
• Best Mobile Distributor: Daisy Distribution
• Best Channel Business Service: Agilitas
• Best Installer/Maintainer: IPNetix
• Best SME Contact Centre Solution: ICA
• Best Enterprise Contact Centre solution: Cirrus
• Best SME Vertical Market Solution: MPS Networks
• Best Enterprise Vertical Market Solution: Cisilion
• Best SME M2M/Wireless Solution: Pangea
• Best Enterprise M2M/Wireless Solution: BDR
• Best SME Cloud Solution: Loop Voice & Data
• Best Enterprise Cloud Solution: Incom-CNS
• Best SME UC Solution: Lily Comms
• Best Enterprise UC Solution: DF Communications
• Nine Customer Service award (under £5m): Rydal Communications
• Nine Customer Service award (above £5m): NSN
• SME Reseller of the Year award: ICA
• Enterprise Reseller of the Year award: Incom-CNS