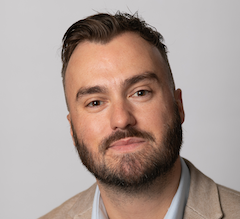 From UCaaS and CCaaS to security and connectivity, from productivity to staff wellbeing and CSR, industry and the market are now singing from the same song sheet.
And here, Chris Angus, Senior Director at 8x8, discusses why offering 'something special' is  key to success...
Has Covid-19 changed perceptions of work and productivity?
The pandemic has accelerated the shift from measuring staff time at work to using outputs as key performance metrics. Put more simply, quality versus quantity. The most progressive companies need to offer that 'something special' to attract and retain the best talent. The 9am-5pm working day is an outdated measurement and we'll likely see more businesses shift towards output as a measurement, meaning that as long as work is done to a high standard, it's irrelevant where or when it's done.
How will this impact on traditional sales approaches?
The sales approach has changed over the past few months. We've seen a glimpse into the homes of customers, prospects and employees for example, allowing us to even better connect with them on a human level. Of course it's about remaining professional, but more and more the approach is now personal, empathetic, more human-centric and community driven. It's less about volumes and more about quality by converting the right prospects into leads successfully, by offering true business value.
 
How should the always-on scenario be managed?
The need to be always-on is a significant challenge for organisations, particularly as technology is now keeping us connected 24 hours a day. It's important to remember that it's OK to step away from your desk, and not always be on. This has to come from the top down and be baked into a workplace's culture. The hybrid world has emphasised the need to convey a sense of culture and vision, and you have to work even harder at it when you're not all in one space.
How has Covid unleashed recruitment power?
In terms of the channel, these changes have completely opened up the employment landscape as a result of remote working. People working nationally and internationally bring new ideas and local flavours to how we do business. Regional workers will understand the needs in their local area, so they can connect with prospects. Many of our partners are already seeing this as an opportunity to grow and scale, and not simply as the result of a pandemic.
 
What channel observation strikes you most?
Channel partners have also shifted how they operate, and the 8x8 sales teams are collaborating with partners all around the world in this new way of working. Deals are being turned around quicker than ever over collaboration platforms, and larger deals are being concluded virtually that wouldn't have happened previously. The channel is at the helm of these changes.
 
Remote working has levelled the playing field for employers and employees. Employees can carry out tasks and meetings that they couldn't before, they can telecommute into new offices, and employers can seek out new talent and opportunities both nationally and internationally. All of this has led to a boom in the channel with partners looking to take on new projects, increase headcount and grow overall performance. To adapt to the new 'everyday', businesses should look at the processes and policies that staff are being asked to work around. Be agile and think beyond what's here right in front of you, and see it as an opportunity to try new things and scale up.