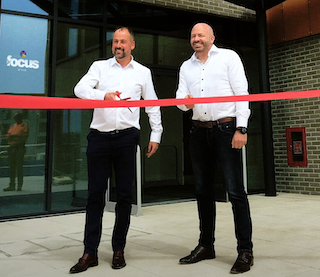 Focus Group has relocated to a £9.5m 25,000 square foot purpose built office in Shoreham-by-Sea. The company moved to its previous HQ in Southwick in 2010 and since grew from 40 to almost 300 staff. The business is on target to achieve EBITDA growth of over 60% this year with continued organic growth and a healthy M&A pipeline for 2020.
 
"Forced to set up satellite offices locally, our facilities were tired and did not reflect the entrepreneurial business that we are today. Something had to change," said Director Chris Goodman.
"While we celebrate the business' performance in 2018 with GP & EBITDA up 26% and 25% respectively, our staff now enjoy a raft of modern facilities.
"We have a roof terrace with sofas and a bar, a fully functioning canteen offering hot and cold food from 8am until 4pm, a cinema/tv area for gaming, table tennis, pool table, showers and much more. It's a space we're all proud of."