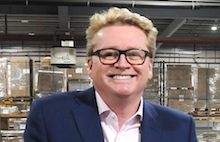 The only way for Nimans following the death of its founder in January is expansion and growth, explains Director of Channel Sales Richard Carter.
Since the death of Nimans founder Julian Niman in January the company has not undergone a reorganisation at the top. There was no Plan B. Responsibility rests on the existing executive team, and whether in logistics, products, services or new technology areas, Nimans' future is about expansion and reseller engagement. "We have the same strong and experienced board in place," stated Carter. "The board has been making the day-to-day strategic decisions for some time. Nimans remains a fully independent organisation in line with the wishes and plans Julian had put in place. The board is in charge and has a clearly defined action plan for further growth."
Nimans' growth into a £125 million turnover business is an endorsement of its leadership team and strategy. The Manchester-based business has over 6,000 customers and aims to reach the £150 million milestone sooner rather than later. "To facilitate growth we have expanded our warehouse by over 30 per cent and also increased the number of staff positions," added Carter. "Our headcount is almost 390, and 10 per cent of those roles were newly created during the last year."
These growth factors underline Nimans' critical development as a value added distributor and readiness to invest in specialisations such as conferencing, headsets, Skype for Business and PBX systems. "But to fully embrace UC we have reinvested in all our teams so that everyone is comfortable to talk about, advise and educate our customers about the complete UC mix," commented Carter. "This has broadened our reach. We have up-skilled our teams to develop reseller knowledge."
Nimans remains true to the core of its founder's mission and displays equal loyalty to traditional markets that continue to show potential for growth. "In many ways we are the last man standing in the PBX arena - sales continue to grow," said Carter. "Obviously, in line with market trends we are also helping resellers capture greater share of the hosted market where we have our own solution as part of our Simplified Network Services proposition. Furthermore, we are offering resellers next generation billing services in partnership with Union Street Technologies. Teaming-up with this billing and provisioning expert is a natural progression as we evolve our network services proposition."
Nimans generates growth in all areas of its operations but significant hotspots are across the major accounts section of the business, where the big carriers sit, and in the System Integrator arm. "This growth is primarily driven by large Skype for Business projects," noted Carter. "In many ways it's all about Microsoft and Skype for Business and Teams. In this context we have also become a logistical powerhouse around UC end points where sales were up 15 per cent last year with almost one million units sold. Personal conferencing shipments rose 30 per cent."
Many turning points have helped to throw off Nimans' reputation as a traditional distributor. Its logistical heritage is of course a boon rather than a ball and chain. "We stock around 8,000 products which are available for next day delivery," said Carter. "We are vendor agnostic and every customer can rely on a personal Account Manager. We've restructured our former systems team and up-skilled staff to work across different brands as many resellers cross over between vendors. Everything has been streamlined from a pre-sales and field sales perspective. We have also moved to a territory based system. Overall, we have become more approachable and more reseller driven, which is reflected in roadshows such as last month's Network Services tour."
In terms of product and technology evolution, Carter expects M2M, IoT and AI to gain traction. "Tools that enable greater levels of collaboration and smarter ways of working are becoming much more popular too as the lines between traditional voice and IT services continue to blur," he commented. "Our cradle-to-grave IP delivery and support solution Compendium is an auto provisioning and estate management service that enables resellers to secure a bigger slice of the burgeoning UC end point market. With initiatives like this Julian's original mission statement 'to serve the customer' remains as strong and as relevant as ever."