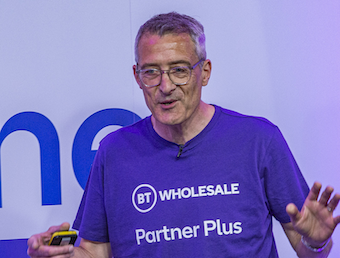 The 2025 PSTN switch off is a watershed moment and long-held business tactics simply won't see partners through the transition, according to speakers at BT Wholesale's Partner Plus Live event (19th May, BT Tower).
A dominant theme throughout the conference was 'working together', an approach that underpins all aspects of BT Wholesale's evolving strategy, including a major rebranding exercise, structural improvements, product, service and support elements.
Resellers cannot expect to escape change, and doing nothing won't solve anything. So the answer must be to face the future on all fronts in partnership. Indeed, empowering partners and forming strategic collaborations that support business growth is a priority for the channel. To that end, BT Wholesale has reinvented itself based on more connected partnerships that it says will naturally lead to better partner experiences and a brighter sustainable future, while new channel programmes aim to bring supplier and partners close together.
It emerged during the conference that partner proximity is a developing aspect of BT Wholesale's evolving approach to the channel, bringing partners closer to propositions and services rather than old style products. Meanwhile, a shift in marketing material puts white labelled collateral of all kinds directly into the hands of resellers – all part of ensuring that partners are fit for the all-IP journey, which Gavin Jones (pictured), Channel Sales Director of BT Wholesale, says is a big opportunity – but only for partners who take a lead rather than follow behind. "We are all facing into a future of services, applications and opportunity," he said, also citing big advances made by BT in developing quantum networks.
A stand out opportunity is the 14 million hosted cloud voice seats up for grabs ahead of the December 2025 PSTN switch off. But Jones stressed two things here – that the clock is ticking and Openreach is not wavering on its planned PSTN shutdown. Both compelling reasons to act now.
Bruce Welland, Head of Marketing Strategy, had some big news for delegates: EE is to be the main consumer brand, and BT is now the primary business brand, underlined by the official catchwords 'BT means business'. And in the spirit of closer proximity, Welland discussed how BT Wholesale will assume the role of a guide for partners to help them navigate industry changes and challenges, and realise opportunities. Key aspects of his thinking on this include the removal of complexity from partners' business lives by bringing BT's experience closer to them, and this change, says Welland, is reflected in the 'BT means business' message and the new digital marketing hub which provides social media guidance and services.
According to Christopher Wellbelove, who is at the vanguard of partner marketing support, a survey of marketing challenges showed that 78 per cent of businesses suffer from a marketing skills shortage: Enter BT's white label marketing resources, which offer an 'in-a-box' service including sales templates and tools, with new assets added regularly to help partners create leads and generate more revenue from existing customer bases, which were the top two priorities identified in a poll of Partner Plus Live delegates.
Gavin Murphy, Head of Propositions, BT Wholesale, also put a spotlight on making the complex simple, couched in the context of challenges that have arisen over the past two years – such as the pandemic, Brexit, rising costs, war in Europe, skills shortages etc – all of which could make business planning more difficult. Against this backdrop Murphy said it is key to keep an eye on the future and BT Wholesale is developing its data connectivity and professional services portfolios to feed into growth areas such as broadband access and WAN, technical services, voice and collaboration, IoT, mobile, security and supporting FTTP.
In more news, BT Wholesale's collaboration and VoIP platform is being 'supercharged' with a new portal, and Murphy announced the much anticipated launch of Teams Direct Connect alongside greater investment in APIs, and mix and match solutions for hybrid working supported by the Partner Hub which offers learning materials. He also noted that come the end of the summer BT Wholesale will introduce a single order journey that will help to overcome number porting issues. "All-IP is three years away," he said. "The opportunity is here and now and we are enabling partners to take advantage of this."
Sarah Tomlinson, Propositions Specialist, is equally clear headed in her assessment of the times. "2025 will be here before you know it," she told delegates, also underlining the criticality of network quality in terms of security, resilience and performance. She reliably informed delegates that BT has over 3,000 security specialists and conducts 24/7 network monitoring which protects the business from a stonking circa 6,500 cyber attacks per day. It is therefore not surprising that BT's end-to-end security posture is trusted by critical users such as the Government.
Network build and capacity is also key to the success of broadband and Ethernet connectivity, and Tomlinson flagged up that BT will be bringing out a 1GB Electrical Interface that will enable quicker installs across Ethernet and DIA – and a full roadmap of APIs is in train.
Propositions Specialist Wing Yee Lo wasted no time in focusing delegates' minds on how much needs to happen between now and the 2025 switch off. She urged partners to wake up customers now – and to help manage the transition to all-IP she outlined a raft of professional services including surveys and portfolio analysis, solution design, set up and migration as well as managed decommissioning – all made possible by over 2,900 engineers positioned across the UK.
Carla Barrow, Senior Sales Manager, put her own viewpoint on working together more closely with partners, indicating that BT Wholesale now operates out of bases across the UK, thereby offering a wider geographical footprint which is reinforced by more positive engagement through partner programmes. She urged delegates to make the most of BT's experts and resources, and called on partners to provide honest feedback to help BT Wholesale tailor its various roadmaps, because, she says, 'working together better' is a sure-fire route to growth.
Duncan Hawkes, Senior Sales Specialist Manager, shared deep insights into the nature and wider impacts of 'specialism' to show the broad extent of what's available to partners who tap into this resource. It's quite a simple formula, in that specialists create differentiation and a better customer experience. That's because experts bring innovation and thought leadership to all engagements. Therefore BT is investing significantly in a variety of specialist functions.
According to Hawkes, these services are more time-appropriate than ever before: The business landscape is changing, pressure is mounting on traditional economic models, and the UK suffers from a productivity issue, not to mention the impacts of the pandemic and 2025. "There is a bow wave of demand for digital transformation," he said. "We need to make it easier for partners and put our people closer to them."
This will in part be achieved via the evolution of the specialist's role, as well as innovative propositions and new ways to derive value from BT's specialist functions, which includes the formation of a single dedicated all-IP team, meaning that experts are no longer working in silos. Plans are also in place for the Partner Hub to facilitate quicker end-to-end journeys, enabling partners to order multiple products seamlessly. Far simpler integrations via APIs are also promised.
All of BT Wholesale's developments and roadmaps converge on the major priorities facing the channel today, chief of which is the switch off of the 40 year old mineral-based PSTN network. Jones could not have been more frank in his advice to partners, that the shift to all-IP is inevitable and that there is no avoiding that fact. "If you want to go where innovation and technology is going then don't anchor yourself in the past," he said. "We are 16 months away from stop-sell."
To drive home the critical point that partners need to get on track with all-IP and cross the 2025 finishing line ahead of the pack,  the conference concluded with 1990 European Championships gold medal winner Kriss Akabusi MBE who, with high energy, provided key insights that emphasised how working more closely in partnership can empower you to win.