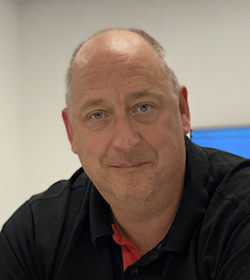 Viegli has kicked off a no holds barred campaign to supercharge Unify's presence in the SMB sector and treble the size of the vendor's channel with a growing 'army' of small business resellers, according to Managing Director Robert Nunn.
Distributor Viegli's all-new Unify SMB channel expansion campaign removes all barriers to entry with no minimum spend commitments or requirement on numbers of seats sold. That's not all: For the first time Unify has opened its doors to all resellers no matter the size or shape of the telecoms, UC or IT business, and committed to a long-term product roadmap. "Unify has pledged to support and develop its SMB portfolio well into the 2030s," stated Nunn.
"Established names such as Panasonic and Samsung have exited the market and there's a plethora of 'me too' hosted providers and a constant race to the bottom on price. There isn't a vendor on the planet that can match Unify's 175 year heritage. Resellers can now take advantage of that pedigree and portfolio with no more discounting to compete with some other vanilla offering."
Nunn's objectives in terms of SMB market penetration and reseller numbers are significant and ambitious. He plans to elevate Unify as the top UK hosted offering within two years, in doing so trebling the size of the Unify channel in terms of reseller count, which means recruiting between 150 and 200 new partners while being especially careful not to over do the process and minimise the chances of Unify resellers competing with each other.
Viegli was appointed as the second UK & Ireland distributor for Unify in July 2021. It only supports the Unify brand and has vowed to 'never distribute another telecoms vendor'. "We were appointed to bring the channel into the new hosted era," explained Nunn. "We have taken the pain away with the hosted proposition. Almost no engineering or in-house skills are needed now, so for the first time ever one man bands can be official Unify resellers."
Unify (formerly Siemens) has always been a big name in the traditional on-premise marketplace, requiring resellers to have significant engineering and in-house expertise to sell the product, which often created a barrier to entry. "But OpenScape Business brings all of the legacy features of PBX to the hosted arena, adding the UC bells and whistles that modern installs insist on," added Nunn.
He pointed up the solution's flexibility as being key in addressing the challenges of smaller businesses, citing its contact centre capability, mobility and UC aspects as well as a traditional reception offering. Other key factors include the removal of complexity and each client having their own virtual instance. "The smaller end of mid-market (100-500 extensions) used to be the preserve of larger resellers with strong engineering and support teams," added Nunn. "But we're seeing smaller resellers win this business as the solutions have simplified."
To create associated opportunities for resellers Viegli will be adding ancillary products to its portfolio such as headsets (including the exclusive launch of a new range of headsets this month), network switching equipment and firewalls to create a one-stop-shop.
According to Nunn, and based on his past experiences, smaller resellers have been let down by distribution. "Everything we do is born from the frustration we had as a reseller," he said. "The traditional distribution model simply ships licences and equipment and escalates faults to manufacturers, with nothing else to offer."
Nunn also noted that Viegli is poised to catalyse Unify's SMB market push with reseller support mechanisms primed in areas such as white label marketing resources, sales and product training plus engineering support. "Distribution for us is simple," added Nunn. "We only distribute one vendor per sector and specialise in reseller sales training and marketing support including white label assets and marketing kits. Remote or on-premise sales assistance is on hand along with client training if required. We believe that a well trained sales person selling Unify will win more business which is why our focus is on supporting the sales people. This is because we see distribution as a partnership, not an opportunity to just ship goods."
All of this will be music to the ears of resellers wedded to their traditional heritage in CPE and wanting to move more in step with the times. "Telecoms resellers with poor IP knowledge will struggle moving forwards," commented Nunn. "While the on-premise marketplace will still be here in five years time the need to understand IP, networking, SD-WAN and associated technologies will be key. We have a crucial role to play in this – supporting the channel with knowledge and expertise."