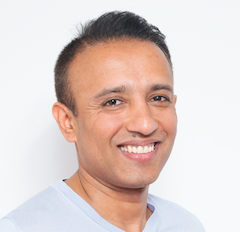 Redsquid CEO Sohin Raithatha is on his way to defining a new work philosophy which frees itself from the strictures of traditional thinking and embraces a higher purpose.
A big question to ask is whether the current push for a Higher Purpose in corporate consciousness, which prioritises people, society and the environment above profit, will be fuelled by the rise of flexible working and the spotlight it has put on people and wellbeing? "Absolutely," stated Raithatha. "I truly believe that every single business will need to be purpose-driven to succeed going forward. Businesses like ours can no longer just be a provider of products. I continuously find that our customers are looking for long-term partnerships. Those partnerships are based on aligned values and a shared purpose.
"Our customers want to know that we take care of our employees and give them a working environment where they can thrive and take care of their mental health. Additionally, a commitment to the environment is creating greater value. That businesses need to take responsibility has become a vital factor in the modern world. Our purpose is what drives us as a business."
Non-financial factors now influence Redsquid in all areas, building on seven years of giving back to the community. "This year we have expanded our CSR efforts and taken a much bigger environmental focus," explained Raithatha. "In April we became a Carbon Neutral business and are continuing to improve our processes to cut down on our internal emissions. We are looking into everything we do to see where we can cut down, where we can be smarter, and what we can take completely out. The future is exciting and I'm pleased to see that more businesses are following to take a greater responsibility."
It is incumbent on all business leaders to rise to the occasion and make 'purpose' the foundation for almost all strategies, believes Raithatha. "We use our purpose to make a difference as a guideline for everything we do," he explained. "For us, this purpose is split three ways – to make a difference to our customers, to make a difference to our employees, and to make a difference to a small part of the world. Over the last year, when we were all working from home and our day to day lives changed overnight, we obviously had to rethink how we could continue to make a difference to our employees under new circumstances."
Raithatha displays a great enthusiasm for devotion to higher proposes and has created a new role – Head of People – to create a broader people strategy. "Our team and their wellbeing are such a priority for our business and with all the changes that have happened in the last year we felt that it needed a role for itself," he stated. "We have also brought back our apprentice programme and welcomed several new apprentices into our team. They bring new energy and a new mindset into our organisation.
"At the same time, they force our existing team into a new way of thinking as they take on the role of trainers, to make sure they get the best possible training with us. The technology industry is changing rapidly and we must keep developing our skillset within the business to keep up. Over a third of our workforce is currently enrolled in training courses to make sure that we have the skills that we will need now and in the future."
Every single business will need to be purpose-driven to succeed going forward
What Raithatha's commitment to a purpose agenda means in practice has been on show for some time, having operated a flexible working policy for the last eight years, and always seen it as an important part of securing employees' wellbeing. "Being in our homes for so long has brought a new set of challenges which have given us a bigger focus on physical activity within the teams," commented Raithatha. "We have brought in a personal trainer to help our team members get started, and completely redesigned our office to create a work environment suited for this new world.
"By giving our team the ability to work flexibly they get room for creativity and a better work/life balance. We have a big focus on social interaction and keeping our team engaged. However, after a year of lockdown and working apart we have found the benefits of working side by side again. Nothing beats face to face when it comes to creative collaboration or creative problem solving. I have always found that I get my best ideas out of the office and cherish the flexibility to be able to do so."
It is true that Covid-19 has brought an increased focus on mental health and given the 'purpose agenda' a more widespread ideological coherence. "Although the pandemic has brought a lot of challenges, it has also given us an opportunity to rethink the way we work, the way we provide solutions for our customers and the way we choose to use our resources," stated Raithatha. "We can now choose to improve, to do better and continuously improve the way we work – I can't wait!"