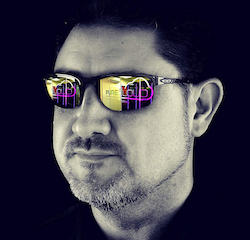 Pure Cloud Solutions is plainly benefiting from its all-encompassing business strategy. Here, Group CEO Darren Lake recounts the journey so far and outlines his future organic and M&A growth plans.
Lake's comms sector experience (see panel below) qualifies him as an industry veteran, yet his back story is the precursor to something bigger – and we sense that, despite the twists and turns of a varied and lengthy comms career he's barley started and has a long way to go yet. Lake established PCS in 2012 with his brother Martin who owned a small business (CS Communications) focused on installing Toshiba PBXs. "Martin could see that the future of the PBX was limited and he asked me if I was interested in setting something up with him," explained Lake. "He asked at the right time as I was fed up working for other people and not being in control of my own destiny. Initially I sold WLR, connectivity and hosted voice into my brother's client base. PCS was set up as a wholesale business from day one with a view to eventually growing a small channel of partners."
I took a break from telecoms and became a fully qualified butcher for 18 months. I enjoyed it, but missed comms so decided to get back into it
PCS generates significant year-on year-growth in line with its evolution. "We are now a true managed service provider," added Lake. "We expect all areas to continue to grow significantly. We also expect our channel to gain traction with the introduction of our distributor in South Africa. And we will continue our M&A activities to achieve step growth. Through organic and acquisitive growth our plan is to achieve £18 million turnover maintaining 20 per cent EBITDA. Martin and I have stepped back to focus on M&A. We have a board of Directors that run the group businesses. There is a lot of M&A activity in our industry and this will increase as businesses can't keep up with technology changes."
Lake is targeting £5.3 million revenues this financial year (discounting potential acquisitions) with 10 per cent EBITDA. "We have a great pipeline for 2021 and I am excited to see what happens in South Africa," he added. "Our partnerships and channel continue to grow steadily which is also great for the group. It's all about making different technologies work together now with APIs which requires a specific skill set. If any business doesn't have a cloud strategy then time's running out – PCS hasn't sold a fixed line solution for eight years."
In 2018 PCS acquired two businesses in the IT space and is currently in discussions to acquire another voice company in Q1 this year which would take group revenues to £6.5 million with 20 per cent EBITDA. This all builds on the strong foundations put in place by Lake. The company started with eight people and now employs 26. It bought its office outright in 2017, a year after building its own hosted voice platform delivering voice, UC and an FMC capability – called UCA (Unified Communications Anywhere). PCS is also a Cisco Meraki Select Partner, Sophos Silver Partner, and partners with AWS, Microsoft, Datto, HP, Konica, BT, EE, O2, Vodafone and Enreach.
The overall business is now structured as PCS Group with Pure Cloud Solutions, PCS IT Services and PCS Mobile Solutions forming the combined entity. "This year our mobile business is set to hit 7,500 connections which is an excellent achievement in two years from a standing start," added Lake. "We also offer voice, IT, security, DR and managed print to clients and partners; and we are looking at AI and the continuation of delivering secure flexible working solutions. We have also just released our direct SIP connect into MS Teams, so we're eager to see what new opportunities this opens up."
According to Lake PCS has always been solution led and educates clients, helping them to develop IT and technology strategies that deliver value for their business. Lake sits on the board of two of PCS's largest clients as a Non Exec' to help steer their IT and technology strategies. "The role of any business should always be that of a trusted advisor," commented Lake. "But never think you have all the answers, so keep learning. Two heads are normally better than one. Plan for growth by bringing in people that are better than you in key areas. If you don't have the trust of your client or partner you have nothing."
Just a minute with Darren Lake...
Role model:
Jacques Cousteau: A lot of what we know about the ocean is down to this fearless guy.
What talent do you wish you had?
To speak every language fluently on the planet.
Your biggest achievement:
Creating PCS.
Tell us something about yourself we don't know:
I am a total adrenaline junky and love rock climbing, skiing and scuba diving – I am a Master Scuba Diver.
Who do you admire most in comms?
Matt Riley: I worked with Matt at DeTeWe for several years and what he has achieved with Daisy is impressive.
What do you fear most?
Letting my family down.
Your greatest strength and what could you work on?
I'm focused and tenacious but sometimes a little too eager.  
Name three ideal dinner guests:
Jacques Cousteau, I would love to talk to him about his adventures and how different the oceans are now; and my two grandads to get to know them as a man. One was a tank driver in WWII and the other a boxer and stone mason.
What possession could you not live without?
My wine fridge.
Lessons learnt?
I have never suffered fools, so with hindsight I should have kept my mouth shut in certain situations.
How would you like to be remembered?
For having had passion and showing my kids what hard work, focus and determination can bring you.
If you weren't in comms what would you be doing?
I'd be a scuba diving instructor somewhere warm.
 
Top tip for resellers:
Take time out to focus on the business, it's worth it.
The career path that led to Pure Cloud Solutions...
Lake's back story in the comms sector is long and varied. He left school to install and maintain London systems as an apprentice for £60 a week. He then moved to Telecom Products where he installed and maintained Panasonic and SDX systems, before being approached by UTL/UTM to become part of its support team for the north of England and Scotland.
UTL was bought by Shipton where he spent 10 years, eventually becoming National Service Manager. Shipton was acquired DeTeWe and Lake was then approached by Astra Communications to join its board of directors as Professional Services Director. He then moved back to DeTeWe as Technical Director.
"Next, I set up a small reseller called Quantum Business Concepts with a couple of partners, but this venture only lasted 24 months due to issues about where the focus should be," said Lake. "So I worked for Crane Communications and was later approached by BT to become its Sales Manager in the north west for Global Services. Then I helped to set up Ethos Voice & Data before taking a complete break from telecoms to become a fully qualified butcher for 18 months. I enjoyed this but missed comms so decided to get back into it."
Lake worked for Convergence Group for 12 months and was approached by Wavenet. After two years there he did a short stint at Ctalk setting up a channel – and then established Pure Cloud Solutions with his brother in 2012. "The rest is history!" said Lake.