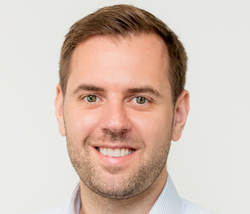 Predicting how the coronavirus crisis will unfold over the coming weeks is fraught with uncertainty but the pivotal role of ICT providers in helping organisations handle this unprecedented emergency is crystal clear. 
"We have already seen a huge increase in demand from clients wishing to roll out remote working technologies including access to VPN and collaboration suites such as Microsoft Teams," said Air IT Chief Operating Officer James Healey (pictured).
With the risk of national lockdown becoming more likely by the day it's vital for businesses to ensure staff are ready and able to work remotely - even if they have never considered it before, urged Healey. 
"As technology can support nearly all business operations this can help avoid major disruption as well as limiting the potential spread of infection amongst employees," he added. 
"Every business is dependent on its people and access to systems, files and data. Thankfully, remote working technologies mean much of this can now be achieved from any location, and not just within the traditional business premises. 
"However, there are several key components to enable an effective set-up including devices and connectivity, VPN and cloud services such as file sharing, storage and VoIP telephony." 
As the Government and chief scientists trumpet an uncertain note there is no question as to the critical nature of AIR IT's and its counterparts' services.
In response to the crisis the company has taken steps to ensure continuity and minimise disruption for clients. 
"This includes the ability for each and every member of our staff to work from home should the need arise," explained Healey. "We have also carried out a remote working simulation in order to stress test our own processes and procedures." 
It is also beyond question that the industry at large needs to support the business community as they adapt to new ways of working. 
"Ensuring our own services and support remain available to those in need is critical to minimise a wider impact on society and the economy," stated Healey. 
"Long-term there are several lessons to be reinforced including the importance of business continuity planning and proactively investing in newer technology as many companies have found themselves unprepared for this current crisis." 
It is a fact, noted Healey, that until recently, remote working has often been regarded as a novelty, or in some cases as an employee perk. 
"But the coronavirus outbreak has prompted a huge shift in thinking as businesses put contingency plans in place," he said. "In the long run we expect to see many organisations adopting and even enhancing their remote working and wider IT capabilities as they realise the true benefits of these solutions." 
Coronavirus presents an unfortunate but significant opportunity for ICT providers to channel their expertise through the deployment of effective remote working solutions. 
"As well as an increase in demand initially the longer-term effects will enable businesses all over the world to relate to the benefits that modern technology can deliver," added Healey. 
"Although many businesses have previously implemented remote working, few may have tested the reality of scaling this to a companywide level. This may also change or highlight existing processes that do not translate to a more dynamic environment where people are not interacting face-to-face." 
The sudden urgency for home working solutions demands a targeted, measured response, but it also implies a significant challenge, noted Healey.
"There will be new security challenges posed as remote users log into systems from unmanaged networks with basic levels of protection more suited to home users rather than business," he added. 
Work from home, urges PM Boris Johnson
How to help businesses weather the Coronavirus storm as home working goes viral