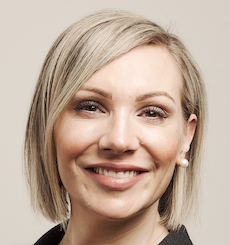 Masergy has targeted a greater presence in the UK channel as it seeks to take partners global, innovate the network and remove complexity from SD WAN deployment, according to EMEA Channel Director Emily Nerland.
International service providers that want to join the vitality of the UK's channel community and become known for all the right reasons must do so by deeds. Especially as the sector goes through a transformation, with lots of disruption and noise, which makes it harder for them to be heard and noticed. But deeds speak louder than noise, and US-based Masergy's strong advance in the UK is testament to this. The same applies to Canadian born Nerland who, with great fortitude, rose to prominence.
Nerland completed an MBA in the United States before moving to England and starting a career in the ICT sector. She was previously a sports journalist before deciding to write her own narrative in comms. "To be effective in either role comes down to being endlessly curious and an ability to connect with people and learn what drives them," she stated.
 
The former TalkTalk Business International Carriers Account Manager joined Masergy in May this year. She is focused mainly on supporting partners' portfolios in security, international networks and SD WAN. Previous roles include stints at tIPicall UK as Account Manager and Channel Sales and Marketing Manager at Zamir Telecom. Her achievements are indicative of a strength of character that was on display long before she set foot on the comms sector career ladder. "I moved to London with three suitcases but no friends, no family and no job," added Nerland. "I stayed in a hostel and applied for work, then landed a content writing gig for a telecoms company and worked my way up."
The rise of Nerland's and Masergy's influence in the UK channel is a reflection of their approach to partners. But more work needs to be done to further raise the company's profile. "Masergy is relatively unknown in the UK so our message needs to be clearly understood," added Nerland. "In the UK, around 90 per cent of a reseller's business is domestic with perhaps a few international customers. Sometimes resellers aren't aware of their customers' global presence. International relevance can be hard to achieve for partners, with a high cost of admission and far more complexity. Masergy takes those complications off the table. We offer technology on a global scale and need to solidify our place in the UK market as we have in the US."
Sometimes resellers aren't even aware of their customers' global presence
More than 80 per cent (and rising) of Masergy's bookings and revenues come from the channel across VARs, master and sub-agents, system integrators, solution providers and consultants. The biggest growth area is its global SD WAN which has received a boost from the recently launched AI-based network, security and application optimisation solution called AIOps.
"Automation is an area that Masergy has been investing in for some time, but our plans are larger," added Nerland. "Masergy wants to be the first to create a fully autonomous network that requires hardly any maintenance throughout the lifecycle. In terms of security, network performance and provisioning, these can all be optimised by integrated AI far better and quicker than a human engineer.
"With the UK's investment in fibre we're getting faster, bigger pipes than ever before that need to be managed, even more so because of the higher levels of traffic and the applications running over them. Network automation technology is one of the most exciting aspects of our industry right now. Whether you want to call it AI or ML, the benefits of a network that intelligently runs itself are obvious and needed. I believe Masergy will be delivering fully autonomous networking to global enterprises in the next few years, and we will work side by side with partners to take it to market."
 
As solutions become more complex businesses require higher levels of simplification, and they look to the channel to make technology more accessible. On this, partners must respond before rivals step in, warned Nerland. "I expect there will be fewer but bigger pure resale players," she added. "With businesses opting to find all-encompassing solutions from a single supplier we will see more mergers of channel players. This will usher in a rebirth of the channel that is far more specialised and application focused."
 
Another ICT industry genesis must come from equalising the imbalance of males and females in the sector, observed Nerland. A greater focus on the inclusion of women in IT and a push for their representation in technical and senior leadership is 'desperately needed', she said. "Diversity at every level not only fosters innovation, it's a necessity for the future of any company to remain competitive," she stated. "Organisations should care about their employees and recognise that representation matters."
Nerland faced a 'whole array of challenges' that stem from being a woman in a male dominated space. "The biggest challenges are the unconscious biases you face every day, as they are invisible and, by nature, unintentional," she said. "For example, instances of being mistaken as the PA, getting talked over, having my own comments or ideas re-explained back to me. I try to address these on the spot as they arise with varying degrees of success. But I have confidence in who I am and what I'm doing, so I've learned not to take things too personally and just get on with it, and do my best to look into my own biases that may affect others."
Just a minute with Emily Nerland
Role model
There's a lot to be found in the little things everyday people do
What talent do you wish you had?
Not requiring sleep
Tell us something about yourself we don't know
I played ice hockey for 20-plus years and my teeth are all still my own!
Three ideal dinner guests
Henry Ford, a true innovator and visionary; Winston Churchill, such an influential and inspirational figure; and Richard Osman, he knows everything
Your strength and weakness?
I'm insatiably curious and driven, which has helped me in my career. It can also lead me to being overly critical and just plain annoying
Name one thing you couldn't do without in your job
Beer
Best piece of advice you have been given?
If you take care of the small things, the big things take care of themselves
How do you relax when not working?
Watching sport any sport. I have two got two TVs so that I never miss a game
Top tip for reseller
Don't ask, don't get!