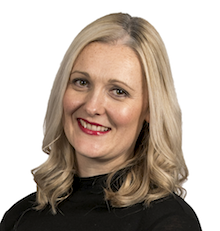 Daisy's Head of Group Architecture Lyndsey Charlton has emphatically broken the comms industry's male dominated mould, and ambitious women seeking a role model in IT need look no further.
Much of Charlton's inspiration and acumen is perhaps due to her grandmother, a pioneering and enterprising woman whose occupation ran counter to the pseudo 'rule of law' that women don't run businesses in semi-rural towns. Back then she was no doubt bored by convention and its continuity, a trait that is evident in Charlton's mould breaking career journey having bridged not one, but two divides across engineering and executive leadership in a male dominated industry.
She left school at 16 and signed up to a YTS scheme in Business Administration. The first placement was a local council office where she dispensed bus passes. From there Charlton was on-boarded by Black & Decker in a service desk role and later undertook an IT apprenticeship where three mentors with computer science degrees passed on their knowledge. A move to Orange followed, and after a six year stint delivering local and wide area networking support with design and build Charlton gained experience in IT managed services and hosting while working for a small organisation that was acquired by 2e2, which itself was bagged by Daisy.
"In 2012 I made the leap into a Head of Department role, not quite hanging up my technology skills but moving away from a hands-on technical position, with more of a business and strategy focus," stated Charlton. "I learned that I could have a greater influence, not just on the business but also on my colleagues. I still have my cabling crimper tools and snips in a drawer. They never get used but I can't quite let them go."
Charlton's career path is a symbol of Daisy's growth story, which reflects the scale of her ambitions as a whole - ambitions that she would like to instil in other women. "It is hugely important for more women to aspire towards engineering and leadership positions within the comms industry," she said. "The difference of thought, removal of group-think and addition of skills will have a positive impact on our industry and only grow it further. We are already seeing some great work in this space and this year has been a positive one for women. If we manage to spark interest in the female talent pool through education and changing perceptions we could close the shortage in STEM skills in the UK. If, as a business, you are at the forefront of that you will reap the rewards. But the rate of change is a concern."
In her career, Charlton has shown her nerve and passion for the job in various ways, not least in overcoming 'conventional' perceptions and challenges linked to gender. "One of the most challenging aspects is salary - being underpaid compared to male peers," she stated. "This has happened on multiple occasions, mainly due to my lack of confidence to drive the issue to resolution. That ability comes with age and confidence, and it's why I would like to see more mentorship for women in male orientated industries."
Charlton moved into the Head of Group Architecture position in 2017. The acquisitions of Phoenix and Alternative Networks meant that, for the first time, there was a need for such a Group function. "I was involved in preparing the business case so it made sense for me to take the lead when it was created," she explained. "As the business grew it became clear that there was a requirement for two new focus areas to help make the shift from being a group of smaller organisations to one larger one, and to enable us to deliver technology standardisation and technical advice to our customers. That was a big challenge, and I love a challenge."
I still have my cabling crimper tools and snips in a drawer. They never get used but I can't quite let them go 
Her first priority was to create definitions around what teams would do, how they would go about fulfilling their tasks, and what benefit they would bring to the business. It meant writing terms of reference, getting stakeholder buy-in and recruiting the right people to deliver on the plan. "Then it was all about putting in a framework to follow and build effective inter-team relationships," commented Charlton.
"My remit has developed as a result of acquisition and growth, as well as my own drive and senior management backing to constantly improve on the service we deliver to our customers. We are now focusing on organic growth and from where I sit in our Group Infrastructure Services area the focus is on delivering an improved customer experience through a ruthless focus on operational efficiency and infrastructure that is fit for purpose."
Charlton's current priorities are to complete two large business cases as part of the lifecycle management of Daisy's Service Provider Network and shared infrastructure platform (a multi-tenant private cloud), which will also support a wider transformation programme as well as strengthen the company's hybrid approach to cloud.
"The long-term objectives are to embed a central architecture function into the business and define it in more detail alongside expanding a customer account-focused architecture and strategy planning team," added Charlton. "We are constantly thinking about all the different types of customers and sectors, as well as our internal operational teams that have to deliver and support it all. Making this as simple as possible is key."
That's good news for Daisy, but part of an ever evolving challenge for Charlton who needs to keep abreast of all technical and industry developments. "The most challenging part of my job is too much change," she said. "Public cloud is in constant development and new capabilities through hyper-scalers such as Microsoft Azure need constant tracking. Furthermore, the emergence of IoT and bots is interesting. Connecting things to become more efficient promises to be a great benefit to so many businesses.
"Against this backdrop I would like to encourage more time for innovation in my departments. There are so many good ideas and I often find we unwittingly stifle innovation. So, creating the ability to break down hierarchy and traditional formality in a functional structure is important. Not just in my team but in our industry. It's the modern way of working which will be key if we want to attract and retain the next generation of top talent."
Inspired by her grandmother who broke the rule book, Charlton also aims to become a role model for younger women - to this she is dedicated. "I would like to be on a path towards a CTO or CIO role," she said. "And gain the relevant exposure and experience to head in that direction, as well as do more for diversity in STEM and apprentice-graduate programmes - something I am passionate about."
Just a minute with Lyndsey Charlton...
Role model:
My grandma who was a business women in an era when that was unheard of
What talent do you wish you had?
An ability to travel in time
What do you fear the most?
Not enjoying work any more
If you weren't in comms what would you be doing?
Running a Bed and Breakfast in the Scottish highlands, or a Scottish estate with fishing, woodland and deer
One example of something you have overcome:
In a room full of opposition speaking up on what you know is right or believe in
Tell us something about yourself we don't know?
I am a professional teacher at a local dance school in Durham
Advice for women:
Go for it! Don't hold back and don't second guess your ability. Our industry is becoming more diverse and diversity stimulates success
Name three ideal dinner guests:
Hedy Lamarr to know more about her inventions; my grandma to ask her how she handled being a business women in a semi-rural town, and to tell her about my path; and Richard Branson to get some insight into him as a person
Your greatest career achievement?
Being part of a team in Daisy that saw the market for UC&C was moving to cloud and being early adopters in this space
The biggest risk you have taken?
Stepping out of my comfort zone and moving into a hands-off technical role