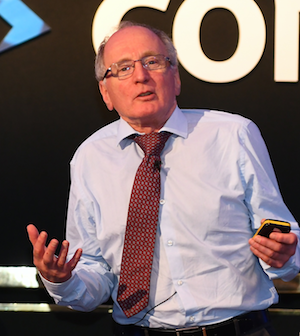 Gamma CEO Bob Falconer is stepping down following a stellar career in which his achievements are universally accepted as beyond admiral and equal only to his passion for the channel and dedication to partners.
Falconer plans to step down after Gamma's AGM on 23rd May 2018. His successor, Andrew Taylor, will join the board as an executive Director on 4th April and assume the top job following Falconer's retirement. Falconer confirmed that he will remain involved with the business during the subsequent months to help facilitate a smooth transition and handover.
As one of the comms industry's most popular and successful chief execs Falconer's energy and drive will be missed. When he joined Gamma in March 2003 he took the helm of a small but established company with 35 staff. Nowadays the business has a headcount of circa 900, generates well over £200 million revenue and boasts a market cap of around £700 million. Gamma has more than 1,000 channel partners, over 300,000 Horizon seats and 700,000 SIP trunks in use. When Gamma went public in October 2014 the share price was 187 - it's now 760.
Falconer, who is 67 in May, said: "I want some time to myself before I fall apart! It is good to leave when things are going well and on a high. When we floated I indicated to the board that I would stay for two more years so they have time to think about a successor. We have found a good candidate and I was involved in the process. I won't be rushing out of the business. It's a managed process."
In terms of the channel Falconer confirmed that there are no plans for a strategic overhaul. "You won't see much change at Gamma," he added. "Andrew's remit is clear. He is not coming in to rework anything, but we are going into buy and build mode. It's about building on the momentum
"Andrew will both maintain the momentum of the business and bring fresh skills and experience to bear. Gamma is in great shape with a strong management team, an experienced board and a great reputation in the market. The future opportunities for the business are exciting and I'm looking forward to working with Andrew over the coming months as we smoothly transition responsibilities across."
'I will miss the people and the camaraderie. I think the channel is great and I love the people in it. I love its dynamism, I love its challenge, I love the way it works' 
Taylor has over 22 years experience in the telecoms industry and a strong track record of achievement in previous roles, both in the UK and internationally. Until recently he was Chief Executive Officer of Nomad Digital, a provider of IP connectivity and digital solutions to the global transportation sector. In this role, which he held between 2013-2017, he was responsible for establishing Nomad as a key player in the sector, and when acquired by Alstom in 2017 was serving over 50 global customers from 20 offices.
Before joining Nomad Taylor was Digicel's Regional Chief Executive Officer (2012-2013) with responsibility for all fixed and mobile operations across the Northern Caribbean. Here, he had responsibility for all fixed network services and business ICT solutions across 26 international markets and was responsible for driving notable growth in both revenues and profitability.
From 2008 to 2010 Taylor was Chief Executive of Intec Telecom, a provider of software solutions with over 400 customers located in 120 countries, and served by over 1,700 employees. After a period of significant growth and business improvement, Intec was acquired by CSG in 2010. Prior to his stint at Intec Telecom Taylor held a number of management and operational roles across the telecoms industry, including senior positions at Alcatel-Lucent and British Telecom.
Taylor stated: "As someone with significant experience in this industry, I am aware of the strong reputation Gamma has among its customers, channel partners and peers. I will strive to maintain that while continuing the progress the company has made under Bob's leadership."
Falconer is most proud of building the Gamma business steadily from 2003 with consistent growth in revenue and EBIDTA and staff numbers. "We never went through any major restructuring and sailed through the 2008 financial crash," he said. "It's been about achieving growth in turnover, growth in profit and growth in people without any disruption which is a difficult thing to do.
"I would like to thank everyone I have worked with. I will miss the people and the camaraderie. I think the channel is great and I love the people in it. I love its dynamism, I love its challenge, I love the way it works. After I have cleared out the shed I'll probably get bored and decide to come back and do something!"