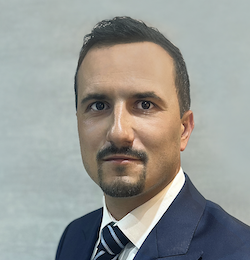 Not only has Cloud Geeks MD Mike Ianiri optimised the opportunities that cloud transformation delivers, he also provides clarity on buying decisions and how to establish a solid cloud migration strategy.
Ianiri has been immersed in IT and comms from a young age. His father started a business called Power Computing in 1986 operating as one of the largest distributors of Commodore Amiga in Europe. Ianiri senior urged his son to sit in meetings with suppliers, to listen and take note. This instilled a business acumen and ambition that led the budding entrepreneur to run his own businesses, including a successful IT and telecoms firm set up in 2010 which he sold in 2015.
 
Cloud Geeks (a division of Power Computing) was established in January 2020 by Ianiri and his brother Tom, just before the global Covid-19 outbreak. "We felt there was a market for SMEs and mid-market industries to enjoy the cloud technology experienced mainly by larger enterprises, especially around managed cloud IT," stated Ianiri. "Being on the Crown Commercial supplier list helped us drive growth by winning big ticket tenders. But Covid and working from home gave us exponential growth. We are seeing a large shift in SME and mid-market wanting a solid cloud migration strategy."
Ianiri expects 35 per cent growth within the next 12 to 18 months, building on its 10 headcount and circa £2 million turnover today. "Our goal is to be between £8 million and £10 million in three to five years time with a strong EBITDA," stated Ianiri. "This will come from continued organic growth as well as acquisitions. We will be looking at one or two transactions within the next year with possibly more to follow. The buy and build approach is going to be key for us."
Businesses are adopting a cloud-first approach, and a growing number of companies can foresee a time when they will move the majority of their IT to the cloud
Cloud Geeks' primary client profile includes businesses above 100 users ranging between legal, manufacturing and public sector industries. "We are having many discussions with clients wanting to outsource their IT," he added. "There will be a rise in outsourcing internal IT help desks within the next two years as CTOs seek to save on costs. Therefore businesses are adopting a cloud-first approach and a growing number of companies can foresee a time when they will move the majority of their IT to the cloud. We've also seen a huge increase in cloud desktop deployments as IT budgets have been tightened, leaving less to spend on hardware and BYOD."
As well as providing managed cloud IT services Cloud Geeks delivers cyber security and cloud telephony solutions. Its primary technology partners are Avaya, Microsoft and Sophos. And to maximise technology and market opportunities Ianiri has sharpened his focus on key target markets and customer profiles, rather than pursue a 'take all' strategy.
"We have been selective with who we work with," he added. "As a small business we can evolve and make decisions quickly, now targeting quality rather than quantity. We have also seen a shift in client habits towards a one supplier approach, rather than different suppliers for various technology areas. Being able to offer six or seven different ICT solutions to clients has helped drive growth."
Inviting existing and potential clients to workshops has also helped drive engagement around the cloud IT arena, noted Ianiri. Another important area of fertility is the sticking plaster many businesses applied during Covid in the rush to adopt remote and home working solutions. "They've realised this wasn't the best strategy for long-term technology goals," noted Ianiri.
This requirement is accompanied by growing demand for public cloud services. Companies are also looking for cloud services to help automate work and business processes.
According to trade.gov the UK is the largest public cloud market in Europe, estimated to be worth around $30 billion by 2030, currently hovering at circa $22 billion. A big market trend driving this growth, observed Ianiri, is demand for managed IT support help desk which he reiterated is a key area, especially in the mid-market arena.
To give customers what they want his consultants take a three pronged approach – Assess, Plan and Deploy – which forms the foundation for successful projects from start to finish. It's a winning formula that saw Cloud Geeks scoop the Comms National Awards 2022 Managed Service Solution of the Year gong in October. "We always go into a project with a proof of concept phase before any customer commitment," added Ianiri.
"In providing a solid migration strategy along with technical expertise we offer a service which secures long-term recurring managed cloud services contracts," noted Ianiri. "Many companies have scaled down since the pandemic to smaller offices due to the high numbers of staff working from home, so IT managers no longer have large comms rooms to store on-premise equipment. This is where we have seen huge gains from a lift-and-shift of on-premise servers and applications to Microsoft Azure."