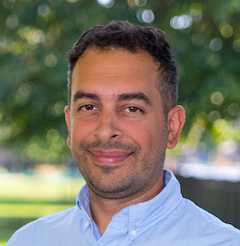 SiPalto was founded on the principle of doing things right and is now poised to exert an ever growing influence on the channel, according to co-founder Ahmed Murad.
The test of any start-up business lies first in realising its founding mission and then in its capacity to continue giving the market what it wants. SiPalto has done both and was founded on the principle of doing things right, a motive that took hold when Murad first worked for a VoIP provider. He observed bad practices and without the power to implement remedial measures he decided that the sensible thing to do was to seize the initiative and take control. "I could see there were a lot of things being done badly and with no voice to make a significant change I approached my co-founder, Ian Rendell, and we decided to establish SiPalto in London in 2009. Our goal from the outset was to develop and operate our own platform."
Spin forward to 2015 and SiPalto was in full innovation mode, transforming away from being a reseller when it launched its own product. "Our core product is SiP Cloud, a hosted VoIP platform which has been enhanced by our new PCI compliant card payment system called ChargeSecure," explained Murad. "We plan to add more services, all developed and managed in-house.
"At the heart of every system we provide, and before developing any new features, we start with the question – what is the problem we are trying to solve? This way we have been able to enhance our systems and ensure customers always have the latest features. We currently have a few products in the pipeline which are top secret, but what I will say is that no other company in the UK is supplying some of the products we plan to release. What is no secret is that we will soon be launching a video conferencing platform which has been in development for the last two years. Furthermore, VoIP is here to stay, but alternative communication and payment methods are of interest and something we are putting R&D resource into."
The inability for larger telcos to quickly react to market shifts is our gain
According to Murad there are a number of VoIP providers who are leap frogging the traditional telcos in terms of services. "As companies become more educated they will be demanding the features and services being provided by these more nimble VoIP providers," he claimed. "VARs will need to expand their portfolios and start using providers that can service their customers' requirements.
"Resellers are becoming more aware of smaller, more nimble providers who not only deliver the services they require, but the commercials and flexible contracts the larger telcos can't offer. Resellers are moving to us at a rate we've not seen before. The inability for larger telcos to quickly react to market shifts is our gain. There needs to be more investment in alternative products, they are out there but nobody knows about them."
Murad says that SiPalto's approach to customers has taken hold and the company's client base continues to expand, which prompted a significant increase in staff numbers, doubling headcount during the last 12 months. "It's exciting having people with different viewpoints and opinions all contributing to projects," added Murad. "It develops you personally and makes you better at what you do.
"The main challenge of the last 12 months has been around Covid and supporting our customers who have all been negatively affected. Now we are seeing a light at the end of the tunnel and feeling positive about future expansion.
"Last year we established SiPalto in Portugal and expect to open a few more offices over the next few years. We will also continue our growth by supplying our services to more international companies, and in particular working out of different offices throughout Europe. It is surreal that we are now an international company."