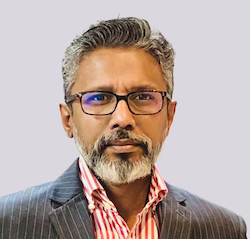 Audra Solutions, the UK arm of ambitious multinational Dotlines, has set out its UK channel expansion plans supported by global expertise across all key sectors and a tech proposition aligned to simplifying Internet security.
Here, Group Chairman Mahbubul Matin shares his UK market entry strategy with high priorities placed on partnerships with fibre broadband providers, distribution and reselling partners.
The UK launch of Audra Solutions is a significant phase in parent company Dotlines' global expansion strategy. The business already operates in 17 major capital cities worldwide and has deployed enterprise-grade security at home-grade simplicity in thousands of homes and SMEs across Asia. Through strategic partnerships with in-country distributors, major broadband providers, high street retailers and e-commerce platforms, Audra's global influence is ever more strongly felt. Now, its Internet security campaign has reached UK shores.
The UK is entering the next orbit of expansion in its fibre broadband outreach, and a user driven Internet security solution like Audra will see more and more applicability
Matin, who is a lifelong student of economics and former investment banker turned entrepreneur, is driven to make complex technologies simple for people, businesses and societies. And he says Dotlines will achieve its UK objectives by combining an internationalisation strategy with capabilities in addressing specific and needy security markets.
"In 2005, the field of IT offered an opportunity to make a swift and impactful difference to simplify businesses and lives, leading to the birth of Dotlines," he explained. "As a non-resident Bangladeshi entrepreneur I have always aspired to represent my nation on the global stage, showcasing our blend of human talent and ingenuity."
Early gains
Matin embarked on his entrepreneurial journey by developing a locally crafted ERP system. And leveraging his understanding of the unique demands of the region, he seized the lion's share of the rapidly expanding lease financing sector in Bangladesh. Buoyed by the initial success of Dotlines, Matin turned his attention to another thriving industry – telecom platforms and services. "As Bangladesh experienced an unprecedented boom in the telecom sector our aspirations soared in tandem," commented Matin. "A timely opportunity arose for us to serve a prominent global entity headquartered in Malaysia."
Through the development of proprietary technologies and services the company continued to make significant strides. Today, the organisation comprises 1,800 individuals encompassing 10 nationalities. "This foundation positions us to extend our services to advanced markets like the UK and neighbouring European territories," commented Matin.
He highlighted that in the UK there are circa six million SMEs, while the European Union has around 23 million. "These businesses collectively employ over 116 million individuals and contribute more than 50 per cent to their respective GDPs," he said. "However, as digitalisation rapidly advances SMEs face an increasing number of cyber threats."
Matin also noted that nearly 80 per cent of SME owners find existing firewall and protection solutions excessively complex, while almost 70 per cent don't have a systematic approach nor the IT experts to manage prevailing threats – mainly due to affordability concerns. And 60 per cent of the SMEs that fall victim to cyberattacks are unaware of recovery tactics and consequently shut down within a mere six months.
This vulnerability isn't limited to SMEs alone, even home spaces are at risk, observed Matin. According to Ofcom, 25 per cent of the 28 million households in the UK have access to fibre broadband; and in the EU, the penetration rate is even higher at 44 per cent. "The Covid-19 pandemic has caused a significant surge in broadband usage, permeating into personal and family life as people increasingly embrace digital platforms for basic education and livelihoods," explained Matin.
"This sudden exposure has brought about unfamiliar threats and issues that individuals are ill-equipped to handle. These challenges could be mitigated if firewall solutions were purpose built, practical and user friendly, catering even to non-technical individuals such as parents or SME owners."
Three dimensional solution
Dotlines' Audra addresses this need gap with a combination of three components. Firstly, there is an on-premise gateway device that requires a straightforward plug-and-play setup via an intuitive mobile app, allowing users to create Internet controls without requiring technical knowledge. "This is all powered by a cloud-based firewall supported by AI and ML technologies, ensuring the safety of home or SME networks by preventing intrusions and protecting against privacy and security breaches," said Matin.
Demand for such solutions is largely untapped, with 62 per cent of home users concerned about their privacy and lacking awareness of effective and user friendly solutions. Furthermore, circa 41 per cent of home IoT devices fall victim to hacking each year; and around 61 per cent of children experience attention deficiency, encounter unwanted access to online content and exhibit unfavourable behaviour online.
With these issues in mind, Matin says he has ameliorated the challenges of strong UK comms sector competition by identifying the right markets and solutions while developing a successful partnering and differentiation strategy. He claims that addressing stakeholder priorities with a targeted and proven security proposition will support long-term success for partners – and he made the point by citing successful implementations of Audra in Asian markets. "Numerous parents and SME owners have embraced Audra as a firewall solution that they can set up and operate themselves," he said. "The UK is entering the next orbit of expansion in its fibre broadband outreach, and a user driven Internet security solution like Audra will see more and more applicability."
FACT FILE...
Dotlines encompasses a range of pureplay connectivity services under Carnival Internet (which connects rural villages in Bangladesh to the global network via fibre broadband across 80 per cent of the country's districts); Internet security solutions through Audra; insurance offerings via Carnival Assure; BNPL (Buy Now Pay Later) and nano-loans through Dana; digital healthcare services under Carnival Care; skill-building initiatives via Ghoori Learning; logistics and online-to-offline transactions facilitated by eCourier; social selling platforms like Lattu for empowering the masses; and lifestyle improvements through ventures like Beyondarie and Eastern Pickle Company. Alongside these, Dotlines offers digital lifestyle solutions, OSS/BSS (Operations Support Systems/Business Support Systems) platforms, and robotic process automation tools.