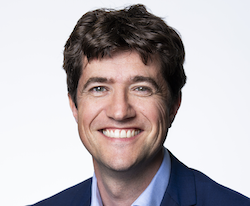 Gamma's appointment of Chris Wade as Chief Marketing and Product Officer underlines the company's ambition to extend its portfolio beyond traditional telecoms and its operating boundaries beyond the UK.
Wade's background is in IT software. He was previously Chief Product Officer at financial software developer Aptitude Software and before that spent 15 years at Sage, rising to the post of Vice President of Products. In both roles he was responsible for product evolution and marketing strategy which he believes stands him in good stead to help fulfil Gamma's aspirations in the software arena.
"Gamma has outstanding foundations and expertise in telco, but I am excited to evolve our software and SaaS capability," he said. "I hope to bring more software centricity to the company, especially as this can create more opportunities than hardware alone used to. Our UCaaS proposition is interesting and I'm excited to see how it evolves in the coming years. We have great ambitions to position this offering in the European market to continue helping businesses to be more modern, efficient, and agile – especially at times like these where those aspects are more important than ever."
So, what attracted him to the position at Gamma? He says it was all down to the company's market position, expertise and growth plans. "In today's digital world, connecting people is critical," he added. "Communication is the lifeblood of any business, just as much as SMEs are the lifeblood of the economy. The way Gamma connects these two elements really interests me and attracted me to this position. Moreover, the company's strong position in the UK market and its ambitious plans in the UK and Europe were key factors in my decision to take on the role."
Wade holds a Masters degree in physics which he gained at Oxford, so one must question why he took the road into software product development rather than science or engineering? "I always felt that staying in science or engineering might have meant becoming more and more of an expert in something fewer and fewer people seemed to be interested in," he explained. "In software development, and product management in particular, you have to plan for the long-term while, at the same time, executing in the short-term. This appealed to the 'thinking' and 'doing' sides of me."
Communication is the lifeblood of any business
Past colleagues refer to Wade as an analytical leader who can take strategic commercial intent and translate it into practical action plans, which should resonate with Gamma's loyal reseller community keen to maximise on market demands for 'as a service' solutions. "Gamma has a strong reputation among channel partners and our commitment to them is one of the key differentiating aspects of our business," stated Wade. "I am looking forward to continuing to support our channel partner programme and to consolidate the relationships with our partners.
"In the following years we will focus on elevating Gamma's profile in the market. We will continue to position ourselves as thought leaders and to raise awareness of our vision and mission. This will also benefit our channel partners who will be able to show they are backed by a credible expert in UCaaS. Ultimately, UCaaS will play a key role in the market. We are focusing on this transition to a UCaaS-centric strategy in order to have the processes, products and capabilities necessary to meet the requirements of our customers and partners."
Wade is realistic about the challenges ahead presented by Covid-19, but is confident there will be opportunities too and promised a range of new products and updates. "Remote working will continue impacting our business and the UC market for many years to come," he said. "Although mass vaccination is in sight many businesses will continue working remotely or will adopt a hybrid working environment. This opens a lot of questions and challenges for all industries that will have to adapt. UCaaS will play a key role during this shift. Moreover, with the ISDN switch off in 2025 we will also see a spike in SIP and VoIP adoption.
"2021 will be an exciting year for Gamma and we look forward to sharing more information about our plans, which will see a new contact centre proposition, a WLR replacement, a reinvigorated mobile offering, and updates to Horizon Collaborate."
Just a minute with Chris Wade...
Role model:
I wouldn't say that I have one role model. I admire many of the people I've worked with and learned from over the years. However, I also admire entrepreneurs such as Elon Musk for their ability to recognise the potential of a market and exploit it.
 
Tell us something about yourself we don't know:
For the creation of my Master's thesis I had the opportunity to hold a quarter of a million pounds worth of diamonds.
Your main strength and what could you work on?
The two are related: Although I work very well with people, regardless of their background or skills, I can be a little too direct at times.
What's the best piece of advice you have been given?
'Be a ten' rather than beaten. Meaning you should always strive to be the best version of yourself irrespective of the situation you find yourself in.
 
How do you start your working day?
I usually start my day by going for a run.
If you weren't in the ICT industry what would you be doing?
I find ICT truly fascinating. I think it's a privilege to act as 'translator' between technologists and businesses, who sometimes don't seem to understand each other. Nonetheless, If I had to choose another career, I might have enjoyed staying in academia.
How do you relax?
I enjoy spending time with my kids, being outside as much as possible and running.