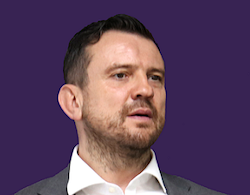 Christian Bleakley's spell as a semi-professional rugby league player, who was also unbeaten as an amateur boxer and later beat cancer, tells of a man intent on winning – and as Firstcom Europe CEO the same determination applies.
Firstcom Europe has grown from annual revenues of £2.5 million in 2013 to £31 million in 2020 and now has 13 offices, 190-plus staff and more than 14,000 customers. "We expect to reach £35 million this year," said Bleakley. "Expansion has mainly been driven by acquisitions with some organic growth through the conversion of on-premises PBXs to cloud-based unified comms. For the foreseeable future this is how we will continue to grow. Our biggest opportunity is to win in the SME market as the ISDN switch-off approaches."
Bleakley is ramping up his conversion strategy and plans to work with more reseller partners as the market shifts to the cloud. "We will strengthen our positions in the UK, Germany and Scandinavia which has been made possible by the investment placed with us by Kartesia," he added. "We have a good story to tell so brand promotion is one of our key priorities as we sharpen our focus on cloud migration and enhancing our product to be more suitable for home workers."
Bleakley pays particular attention to Scandinavian companies as a signpost to help forecast the future of other markets, as they tend to be more developed. "The growth of collaboration, the role of mobile and the need for remote working are three of key trends we are keeping an eye on," added Bleakley. "This will impact all parts of the channel, but for us this means that we need to develop products and features that are ready for these developments. The conversion of our customers from on-premises to cloud has become a major focus and Universe, our unified comms platform, has been developed in-house in Denmark to offer a wider range of services."
Firstcom Europe started life in 2004 with the belief that there would be a shift toward IP-based telephony and communications in the future. It was early days for VoIP, SIP and even broadband. "Our thinking developed and we saw opportunities in cloud-based unified communications," explained Bleakley. "In 2013 Firstcom in Denmark was purchased. It had been operating a unified comms platform since 2005. In 2014 and 2016 we purchased two German companies, Teleforte and Citec. Telesis in the UK was purchased in 2018.
"This expansion was only possible as a result of the investments made by Oakfield Capital Partners and Beechbrook Capital. We also secured funding from Kartesia during 2020. Each of these events were turning points for the company. We have become more integrated over the past two years as a group, both in terms of branding and the way our country operations work together. Our ownership structure has become simpler and we have restructured our workforce."
Our biggest opportunity is to win in the SME market as the ISDN switch-off approaches
Firstcom Europe acquired Telesis in December 2018. The company was established in 2008 by Bleakley and was significantly boosted by its transformational acquisition of Digital Telecom Airtime in 2018. The rationale behind Telesis' acquisition of the Bolton-based comms provider was that the market is moving more towards subscription-based cloud services such as hosted PABX and SIP channels and that by joining forces the service proposition would be expanded and enhanced.
Firstcom Europe now provides a range of communication solutions to the business market in five European countries – the UK, Germany, Denmark, Sweden and Poland. "Our target market is the SME sector to whom we provide cloud-based unified comms products and other services that allow customers to communicate by the device of their choice – mobile, computer or fixed line," said Bleakley. "The product allows communication via voice, video, screen sharing or messaging.
"We also have to be mindful of the impact of 5G and the love affair we all have with mobile phones. Therefore I expect unified comms to be increasingly driven by mobile devices. New ways of collaborating will develop which will make remote working more convenient and productive.
"We are always looking for opportunities in this area. Our industry is in an exciting period. The nature and location of work is being transformed, the way that people communicate is changing, and new products are being developed that will alter our lives forever.
"Therefore my advice to resellers is to become the one-stop-shop for customers. At one time it was possible to be the telecoms company, the internal comms provider or the computer supply company. Those days are long gone. So make sure you are able to provide solutions right across the telecoms, internal comms and hardware supply space. Become the reliable partner who sells solutions, not commodities, and who listens to their customers. This is how I see the market evolving."
Just a minute with Christian Bleakley...
Role models:
My parents. They taught me to work harder than anyone else.
What talent do you wish you had?
To speak multiple languages.
What was your first job in comms?
At Britannia Communications as a telesales executive. I then developed a maintenance subscription model and a sales plan. Eight years later I became Operations Director.
What do you fear most?
Running out of time. Life is short.
Best piece of advice you have been given:
Don't be the smartest person in the room, be the hardest working.
If you weren't in the ICT industry what would you be doing?
A role in sport: Coaching or running a network of gyms.
Your main strength and what could you work on?
I am determined and read people well, but tend to be over critical of myself and could be more patient at times.
One example of something you have overcome:
Beating cancer.
Biggest career achievement:
To raise funds in a pandemic, restructure the company ownership and organisation, increase EBITDA and employ extra staff.
The hardest decision you made last year:
Furloughing staff during the pandemic.
Name three ideal dinner guests:
Muhammad Ali, Robert De Niro, Princess Diana.
Tell us something about yourself we don't know:
I played semi-professional rugby league and was unbeaten as an amateur boxer.
Top tip for resellers:
Have a plan, constantly review it, believe in yourself, go for it.