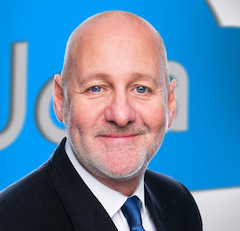 Jola CEO Andrew Dickinson shares insights into how the acquisition by Wireless Logic supercharges his formula for growth in the ever expanding mobile data marketplace.
The acquisition, which saw BGF exit, enables Wireless Logic to leverage Jola's routes to market as its channel brand. The deal also met the requirements of the Jola leadership team. "It was important that Jola remained an independently run company focusing on the UK channel," stated Dickinson. "I have no plans to move on, nor has our strategy changed. The entire Jola team is incentivised and committed to driving growth. We're planning to build our partner base and help key partners win lucrative mobile data deals. Every reseller or MSP has at least one significant IoT/M2M opportunity in their existing base of customers, and mobile data aggregators like Jola are helping to find and win them."
Jola's 1,000-plus partners will see little change in the short-term but over time they will gain access to product innovations across the group and see benefits from more extensive supplier relationships. Wireless Logic also has a broader pure IoT proposition including a wider range of devices and device management capabilities. "Our partners will be supported to win much larger deals from the networks directly," added Dickinson.
Jola was founded in 2014 with an experienced team and a tried and tested strategy that proved successful at Griffin, which built a channel of over 700 resellers, generated annual revenues of more than £20 million and had a team of over 130 employees. "After Griffin was sold in 2012 it seemed inevitable that we would work together again," said Dickinson.
Jola started out as a channel supplier specialising in Internet connectivity and hosted telephony. But when the networks allowed it to sell 4G products the team realised that the biggest opportunity for the channel was in mobile data, so it developed Mobile Manager. "We built our own global eSIM MVNO providing IoT and mobile data solutions to MSPs, ISPs, IT support companies and telecoms resellers," stated Dickinson.
 
He noted that the financial markets value mobile data EBITDA at a higher multiple than fibre and broadband, and he says the acquisition should be seen as reinforcing the value of mobile data. "With 4G+ download speeds of around 300Mb/s available to 90-plus per cent of the population, mobile data is a credible alternative to fixed line as well as having a great 100 per cent SLA and back-up story," he said. "It's also the only practical solution to replace millions of PSTN lines in the next few years. Only around 20 per cent of resellers sell mobile data but by 2025 every reseller in the UK will need it in their portfolio. As is always the case with disruptive technological change, early movers win more market share and ring-fence their customers from competitors."
According to Dickinson, mobile data is a critical part of the PSTN/ISDN replacement portfolio and he says resellers cannot 100 per cent address the needs of their customers without a channel-only mobile data aggregator. "Being part of the Wireless Logic Group strengthens our hand in this respect," he emphasised.
Partners bidding to win mobile data opportunities for M2M and IoT solutions such as 4G SIMs in tablets in the public sector or Multinet SIMs in smart water meters are being asked specific questions about their portal, observed Dickinson. "End users want to know how real-time the data is and the extent of automation in the portal," he said. "They do not want multiple supplier portals to deal with. They want the ability to order a range of technologies from multiple network operators in a single portal. They want direct access to activate SIMs, add bolt-ons and share data across accounts. They need access for their end users to be able to monitor usage in real-time. Suppliers that can offer real-time, automated portals are better placed to win the deals."
Demand for M2M and IoT is on the up and end users need more than the MNOs can offer them directly, reiterated Dickinson, which translates into a significant opportunity for companies like Jola to innovate with solutions managed in a real-time portal, and designed to meet the specific needs of M2M and IoT solutions in multiple vertical markets globally. "Via the Wireless logic Group we will have access to relationships and new solutions that will enable channel partners in these areas," added Dickinson.
"With more than eight million IoT subscriptions active in 165 countries and direct partnerships with 48 mobile networks, Wireless Logic provides reach into more than 750 networks across the globe and delivers value throughout the IoT connectivity chain. Over time global solutions may be added to Mobile Manager to enhance our global multinetwork proposition."