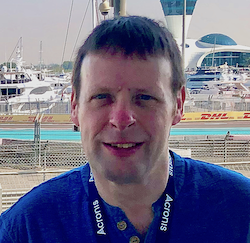 With a comms arm positioned to flex its muscle Dunedin IT founding Director David Inglis outlines his plans for fivefold growth in as many years.
Dunedin IT is a fast grower: In 2020 it saw a 300 per cent hike in demand for voice and data connectivity solutions and staff numbers increased by 50 per cent over the past three years. The Edinburgh-based business is on track to grow from a £2 million to a £10 million business within the next five years and is sharply focused on the mid to enterprise market. "Our approach will be through acquisition or integrated partnering with other ICT businesses providing similar services in different parts of the UK," stated Inglis.
A business model change in 2018 provided a springboard for expansion into the comms sector, moving from a reseller model with various communications partners to become a wholesaler. "This allowed us to introduce new products such as our hosted VoIP platforms with unified communications, mobile networks and associated devices as well as Ethernet fibre products," added Inglis. "This transformed Dunedin IT into a true ICT business which offers customers a full range of end-to-end products and services."
The comms operation is spearheaded by newly appointed board Director Rory McEwan. He brings over 25 years telecoms industry experience and founded Aberdeenshire-based Orca Telecoms which was acquired by Arrow in August 2015. Other developments over the past year include Microsoft Gold designation and being named a City Champion by CityFibre. Dunedin IT's technology partners also include Gamma, Google, Amazon, 3CX and Acronis. Thus armed, the company targets SMEs in sectors such as professional services, construction, renewable energy, recycling and green technology manufacturing. "We are also looking to grow our client base among scientific research organisations and large not-for-profit companies," stated Inglis. "The market for managed services is expected to see continued, albeit moderate growth over the next few years."
We expect growth in experience level agreements that put customer experience at the centre of service performance
Inglis has identified four propellants of growth and he plans to take full advantage of each. Clearly the cloud is a stimulus, enabling Dunedin IT to build new platforms for customer engagements and deliver digital transformation. "Another growth driver is the increasing amount of automation in IT," he explained. "Even in areas that have not previously been automated, machine learning is having an impact and starting to replace a substantial amount of work for our customers. As core ticket activities become increasingly automated we anticipate workloads will shrink, so we expect our ability to integrate automation solutions to be a key point of differentiation for our business."
An increasing reliance on outsourcing is a growth factor that Inglis says will result in ICT businesses like Dunedin IT reducing their reliance on traditional SLAs. "We expect growth in experience level agreements which put customer experience at the centre of service performance, ensuring that all service interactions and touchpoints are considered when defining whether the service meets the agreed performance level," he added.
We originally planned to operate within the central belt of Scotland but have expanded our reach
"The fourth growth catalyst is the imperative to evolve and keep pace with customer requirements. Over the past 11 years our managed services have evolved from supporting software, hardware and landline phones to providing full cloud services. We have moved away from the antiquated ICT value added services and one-off sales strategy to target wide ranging subscription services and recurring revenue streams. This drives more value to our customers and increases customer retention."
All of this builds on a significant investment that Dunedin IT made in its own cloud-based platform in 2013, enabling the company to offer customers alternatives to the likes of Microsoft, AWS and Google. "The launch of our Dunedin IT in the Cloud hosting service provided a new revenue stream that accelerated our growth in terms of turnover and revenue performance," said Inglis. "In 2015 we expanded our presence and client base throughout Scotland and the north east of England, allowing us to grow our IT and admin teams. We originally planned to operate within the central belt of Scotland but have expanded our reach with projects in Northumberland."
Dunedin IT was established in 2009 by Inglis, Marion Smeal and Jamie Clague. Their first milestone was opening an Edinburgh office and putting a team together that fitted culturally. "This can be daunting and exciting in equal measures for any start-up," noted Inglis. "Once we had a stable operating platform in Edinburgh and saw our client base increasing year-on-year we decided to open a Glasgow office. This was a turning point in terms of increased client base and revenues."
While the main strands of Dunedin IT's growth strategy are in the comms, business continuity and security streams, Inglis is also keeping his eye on a number of new technologies like IoT, blockchain, 5G, AI-based security, IT process automation and larger platforms for integrated UC. But amid all this change and technology evolution his core principles remain the same. "Improved communication and integration with customers are vital in today's market," he said. "I've also found that getting the right product information to the right person at the right time, and offering diverse products, are key."
Just a minute with David Inglis...
What do you fear most?
Retirement. I've worked hard for so much of my life, I'm not sure what I'll do with myself.
Tell us something about yourself we don't know:
While doing consultancy work in Northumberland I was in a kitchen at a large country house having a nice chat with a man about the work. After he left I was informed it was Prince Harry!
One example of something you have overcome:
A fear of heights.
The biggest risk you have taken?
Starting Dunedin IT. I had a vision of how ICT services could be delivered in a cost-effective and reliable manner to SMBs and wanted to bring it to life.
Your main strength and what could you work on?
I am driven by work and bringing my business visions to life; but I still need to pay more attention to mundane issues and being more patient.
What talent do you wish you had?
To master the acoustic guitar.
If you weren't in IT what would you be doing?
Property development.
Who do you admire most in the channel:
Ricky Nicol, founder and former CEO of Commsworld.
Name three ideal dinner guests:
Albert Einstein who was brilliant at explaining his theories in layman's terms; Nelson Mandela to talk about how to deliver democracy and social justice; and Captain Sir Tom Moore who had a fascinating life.
Industry wish:
To simplify business systems by more automation and integration.
Top tip:
Be open to all types of sourcing opportunities but make sure you choose the right products and complete proper due diligence.