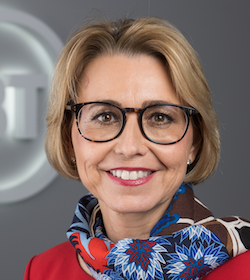 Alexandra Foster, Sales Director of BT's innovations unit, is a passionate advocate for new technology and believes resellers have a unique opportunity to differentiate in a crowded market by offering digital innovations now.
We meet Foster over tea on the 35th floor of The Shard in London, while on the floor below us the expo section of BT Wholesale's latest Partner Plus Live event is in full swing, and the innovation stand is attracting much attention. The division was created eight months ago with a £100 million investment fund and 300 staff to scale up and commercialise the development of 'unique' customer solutions incorporating components such as 5G Private Networks, IoT, Immersive Spaces and Edge Computing, amongst others.
Outlining the raison d'etre of the new division Foster extols the value of problem solving which lies at the core of most reseller objectives. "As an organisation we're moving from being a telco to a techno," she stated. "Innovation is all about creating new solutions and new propositions for the market. We've got a huge amount of R&D in Adastral Park (BT's research centre) where our digital teams scour the world for innovations. It's about bringing the best of what partners have got to create solutions that solve customer problems today – problems they perhaps don't even know they've got."
BT's innovations unit is all about creating new solutions and new propositions
Having earlier outlined BT's key innovation objectives on stage alongside Indirect Sales Manager Jon Cooper, Foster praised delegates for their enthusiasm and willingness to embrace new ideas. "My key takeaway from today was the passion of the partners... their passion for the channel and their passion for wanting to do the right things for the organisations they support," added Foster. "Their hunger and excitement for new things they can talk to customers about is inspiring."
One of the stand-out innovations on display was Digital Vision, a joint BT/Atos project that combines BT's digital connectivity with Atos's Computer Vision Platform which allows end users to interpret information from digital images, videos and other visual feeds (including live video streams from a fixed camera or a moving drone) and take automated actions or make recommendations based on the data compiled. Foster believes such technology could be a vital tool for manufacturing, logistics and retail industries.
"I was speaking to one partner and he said, 'we're going to focus on verticals now and this will be brilliant for hospitality or retail'," explained Foster. "The feeling is growing that we're developing a strong partnership of trust. We're taking customers on a journey with our 123 steps to all IP, but it's clear they want more and that's where innovation comes in."
Foster is under no illusion that some resellers may require help to impose complex technologies like IoT and Digital Vision into the minds of customers but believes they should recall the Ready Brek 'Central Heating for Kids' advert that was introduced to the public back in the seventies. "You need somebody to help you take a leap of faith sometimes," she said. "We want resellers and channel partners to feel like they've got a purple glow around them when they're taking that leap because it's not a leap into the unknown. "They've got that protection because our team will help them understand the opportunity they've got with customers. They can learn, they can earn and hopefully they might even have a bit of fun at the same time."
The growth of private 5G, which can replace multiple Wi-Fi points on a large premises, and IoT connectivity via data Sims, will remain at the forefront of BT Wholesale's channel proposition, but when pressed to name the most compelling solution for resellers Foster returns to the opportunities presented in retail and hospitality by Digital Vision. "This means organisations can use their current infrastructure around cameras, even if they've got end of life or old CCTV units," she observed. "You can almost superpower them with AI and get compelling insights. It's simply about extending what a customer estate can do. And as an ancillary to that sell we're seeing a 5G pull through with organisations involved in entertainment or education where 3D immersive spaces can create very different learning environments."
BT has been harshly labelled in the past as Boring Telecom which, unsurprisingly, riles Foster. "I've never felt that about BT," she stated. "In all the areas I've worked in at BT it always felt like it's been on the front foot, such as some of the things we've done in financial markets around blockchain to what we're doing today in terms of IoT and Digital Vision, taking digital images to create insight. I think the B and the T stands for Bright Talent and Brilliant Technology."