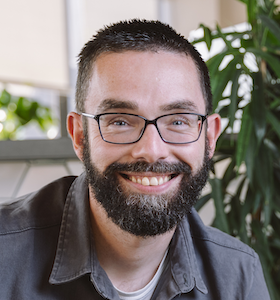 Fuelled by a fresh investment boost CTS Managing Director Chris Bunch is set to build on the MSP's status as the largest dedicated Google partner in Europe.
CTS was established in 2008 by a group of 'smart folks' who were approached by Google to build a product that migrates customer data from legacy platforms into Google's cloud computing platform. This activity initially focused on what is now Google Workspace but CTS shifted into GCP (Google Cloud) in 2017, a move that proved to be a greater accelerant of growth. CTS became a Google Cloud MSP in 2020 (the top tier for GCP) and aims to remain an EMEA leader in Google Cloud services following investment from Marlin Equity Partners in January this year.
To advance its international growth strategy, in 2018 CTS acquired Qlouder in the Netherlands to secure a foothold in mainland Europe. It also has offices in Manchester, London and Edinburgh. "CTS is well positioned to capitalise on the momentum behind Google Cloud, one of the fastest growing public cloud platforms," stated Bunch. "With additional backing from Marlin I'm expecting our growth to accelerate faster – including new markets. While cloud growth will moderate slightly in 2023 due to economic contractions around the globe, it will continue to grow at what is quite frankly a ridiculous pace."
CTS has witnessed over 60 per cent growth in Google Cloud revenues during the last 12 months and overall gross revenue is forecasted to reach circa £70 million for the current financial year. Headcount in the services business numbers more than 170 with 142 technical roles holding a total of over 220 Google accreditations and technical certifications – all supporting 675-plus customers across a range of size and industry, the majority of which are recurring.
Client success in large part has been attributed to a strategic pivot that created a dedicated services practise while the launch of a software product, called CloudM, also provided a notable boost to CTS's strategy. "We help enterprise organisations with Google Cloud, across both Workspace (collaboration) and GCP (infrastructure and data), providing project and managed services," stated Bunch. "CTS continues to invest in growth and we're hiring smart new people every month alongside improving our go-to-market clarity."
While cloud growth will moderate slightly in 2023 due to economic contractions around the globe, it will continue to grow at what is quite frankly a ridiculous pace
The trend that impacts CTS most remains Google's own growth and how that evolves across different cloud segments. "It's fascinating to read reports describing that growth each quarter, alongside seeing it happen first hand with our customers," added Bunch. "I continue to track Google's investments in AI and Machine Learning which have been a lynchpin of both Google's, and our, go-to-market. Personally, I'm interested in pretty much anything around automation from the recent buzz around GPT to how the RPA market will develop."
Historically, noted Bunch, Google has been strong around data and ML on GCP and increasingly it's gaining traction on migrations and modernisation. "Despite these progressions I still see people knocking out licences which feels like a shaky business model, along with cumbersome procurement processes that add no value," he added. "All the major cloud vendors are moving to a marketplace model that simplifies procurement."
Resellers who are stuck in he past would be doing themselves a big favour by lending an ear to Bunch's insights, which are largely born of experience and a pedigree in IT that stretches back in time. Having grown up tinkering with a 48K Spectrum in the 1980s Bunch was perhaps destined to acquire a degree in computing before securing his first IT job in the early 2000s, a developer role for a consulting business. In 2011 Bunch moved to a small cloud computing consulting start-up and was part of the leadership team. The business grew to over 900 people, took investment, won accolades, broke records and had fun along the way.
"Working for small fast growing businesses in leadership roles requires a certain level of commitment and dedication to making it happen," said Bunch. "That can take a mental toll if you're not careful and I'm proud of making it through some really tough times over the years, while managing to have some fun."
Just a minute with Chris Bunch...
What talent do you wish you had?
To speak another language. Only speaking one language credibly is somewhat poor!
Your main strength and what could you work on?
I'm very driven when it comes to work and our success, but that makes me impatient.
If you weren't in ICT what would you be doing?
Something involving travel.
Tell us something about yourself we don't know:
I once appeared on the One Show.  
What do you fear most?
Failure.
Biggest risk you have taken:
Wing-walking, but it was great fun.
Best piece of advice you have been given:
Never compromise on the quality of people you are hiring, even when desperate. Set the bar high and keep it there.
How would you like to be remembered?
Worked hard, delivered results, but in the right way with a smile and sense of humour.
How do you relax when not working?
Mainly thinking about my next holiday. But I'm a big fan of walking and live close to big hills that lend themselves to a walk, followed by a room temperature pint by a fire.
Name one thing you couldn't do without in your job:
Google Workspace.
What possession could you not live without?
My passport.
Top tip for resellers:
Sharpen your focus and work out what your business is and what it isn't. Stop doing the latter, and only focus on the former. In many businesses, there's too much wasted time and energy with people running around chasing things that don't matter.