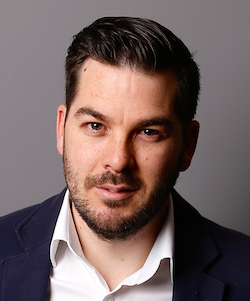 Three hosted comms providers put down a joint motion to place traditional voice and data resellers safely on the road to a cloud-based future. 
Cloud comms proponents such as Xelion see little future in the traditional on-premise PBX market. Xelion observes that a number of major manufacturers have vacated the space in recent times, and argues that on-premise PBX systems will only be required in the large corporate enterprise sector. "SMEs are rapidly moving over to hosted solutions," stated Xelion UK Managing Director Dave Reynolds (pictured).
He observed that the pressure on customers to migrate to SIP or hosted voice is mounting as BT Wholesale will no longer accept orders for ISDN from 2020. "Many organisations will discover that their legacy on-premise PBX is not compatible with SIP and be unfit for purpose," added Reynolds. "This is a great sales opportunity for our partners."
Xelion's UK customer base has grown to 10,000 seats with a total base of over 140,000 users. Monthly growth is running at 2,500 to 3,000 users, and 90 per cent of Xelion users use the desktop app every business day. "Our principal focus is to achieve one million subscribers by the end of 2022 via channel partners," added Reynolds.
To speed things along Xelion provides its hosted telephony service free to channel partners, enabling them to familiarise themselves with the features and functions of the service so they can better communicate these to customers. Another key advanced by Xelion to help comms and IT resellers unlock hosted comms revenues is integration with other back office solutions. "This is why Xelion 7 has RESTful APIs allowing third party apps such as MS Exchange and Office 365 to be integrated seamlessly with the service," explained Reynolds. "This gives our partners the freedom to design bespoke solutions with best of breed apps instead of a one-size-fits-all service. By adding value our partners generate profit."
One reason why the majority of resellers are not moving to hosted is a lack of mainstream providers
Reynolds also noted that there is still some hesitancy among IT support companies regarding hosted telephony, but he says voice resellers have fully embraced the technology to the extent that many no longer sell on-premise PBX hardware. "Those IT support companies that are nervous about voice comms will find that deploying hosted telephony is much simpler than conventional PBX systems and requires far less after sales support as configuring hosted solutions can be done by the customer," added Reynolds.
TelcoSwitch Sales Director Paul Gibbs agrees that the key to helping comms and IT resellers unlock hosted comms revenues is to make it easy - easy to adopt, understand, deploy and support. "This process creates and underpins partnerships rather than one dimensional transactional buy-sell relationships," he said. "Having a hosted proposition that keeps the traditional functions that the end user expects but can also morph into a collaborative tool is also important."
In Gibbs' experience most end users expect to see a hosted quote and want to adopt an opex strategy. "The main point of hesitation for comms resellers is the effect of the opex model on their cashflow," he stated. "IT resellers have been more aligned to recurring revenues for a longer period of time and tend to be less hesitant about adopting these type of technologies. If resellers don't adopt they will be left with a base that is worth x1 if anything. Confidence is key."
Voiceflex, which has been a cloud voice carrier since its inception in 2005, is seeing growth across the board from SoHo to enterprise and Taylor expects high demand to accelerate as he ramps up the introduction of a range of applications from messaging to full UC, WebRTC and APIs from a growing range of companies. Late last year the company became Unify's only UK Cloud Service Provider and one of only three worldwide. "Our main priorities are to get the product into our existing channel and Unify partners and to educate them on the differentiation between Circuit with OpenScape provided by a CSP," stated Paul Taylor, Sales & Marketing Director. "We will be launching Circuit as a standalone application which can be used as a UC add on to any on-premise telephone application."
Resellers seeking to establish a cloud partnership would be wise to take the long-term view, advises Taylor, who advocates 'mainstream' players as being key. "Not all hosted providers will survive in the long-term, so you need to ask yourself where your business will be if a provider stops trading," he commented.
"When the point arrives for a reseller to sell their business, will the potential purchaser be interested in an unknown or niche provider? There seems to be a new hosted supplier launching every week. One reason why the majority of resellers are not moving to hosted is a lack of mainstream providers. Most new hosted systems coming into the market are license only with the reseller adding SIP trunking from their preferred supplier. This is all well and good until there's a problem."