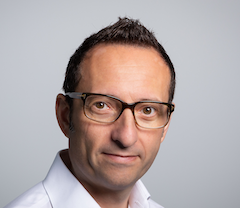 It is now more clear than ever that channel partner success boils down to a blend of portfolio breadth and value, says TelcoSwitch Managing Director Barry Kaye.
Kaye has always harboured a passion for technology. His earliest childhood memories include the Commodore PET, Acorn BBC Model B and SEGA Mega Drive. Not surprisingly, he spent a significant part of his early career in and around the Internet and FinTech. "I missed out on the early mobile boom, so was determined to ensure I harnessed a second big opportunity in comms – VoIP," he stated.
 
TelcoSwitch was formed in 2015 by CEO Russell Lux. He saw a growth opportunity for hosted voice and UC and now has a growing base of partners across telecoms and IT managed services. So much so that the company appeared in the Sunday Times Tech Track 100 this year. "The expansion of the business has surprised us and we've exceeded our projections on seats growth," said Kaye. "We're on target to double turnover this year and have over 60,000 people using the CallSwitch platform for voice and collaboration."
According to Kaye, it's impossible to have a conversation about UC and not acknowledge Microsoft Teams. "Microsoft is everywhere and enjoying monthly billing relationships with customers through everything from operating system licencing to Office 365," noted Kaye. "That's a huge opportunity for us because voice with Microsoft is convoluted and expensive. We can drive that cost down, add features and improve resilience. That's a great driver for our partners to take to market. We're seeing solid growth in the area of our voice integration with Teams, and expect this to continue."
Kaye has also witnessed 'exceptional growth' as resellers look for more cost-effective UC options without the upfront forecasting and contractual commitments. "As well as high demand for our voice offering for Microsoft Teams, our compliant call recording and analytics platform is making significant inroads in financial services and contact centre environments," he added.
Resellers who don't have a wide enough product portfolio could easily find themselves challenged with margin erosion
"The platform continues to grow in features. As a technology-led business we're always innovating, improving and trying out new ideas. Some of that comes from us, but it also comes from working closely with partners, taking their feedback and seeing where we can deliver value back to them. We have some interesting products pushing through the development roadmap."
A key moment of development at company level was TelcoSwitch's migration to its V5 and V6 platforms, each offered a raft of new features and functionality. TelcoSwitch's acquisition strategy (for example, the Ziron transaction in January) also intends to advance its product portfolio.
"Ultimately it's about two things – breadth of portfolio and value," added Kaye. "Resellers who don't have a wide enough product portfolio could easily find themselves challenged with margin erosion, and an obvious example is mobile voice. Resellers whose businesses leaned heavily on mobile have had a tough year. With reduced travel all those roaming revenues have gone, and even things like out-of-bundle UK data charges went with everyone working from their home broadband. Resellers need to be selling multiple services, not just to improve customer stickiness, but to top up that revenue in multiple areas. Related to this is of course the service aspect. Having the right products is one thing, but looking after your customers is everything."
One of Kaye's top priorities is supporting partners at a time that's been challenging for everyone. "We have a wide partner base – many have thrived with enhanced pipelines as their customers transitioned to different working practices and needed a tech stack to support them," he explained. "Others have found the market more challenging. But we've ensured that our lines of communication with partners have been stronger than ever this year. That's something that will continue as we move forward."
To that end TelcoSwitch has expanded its channel team and bolstered its marketing capabilities so partners can engage with new customers through a white label programme. Sales and technical training is delivered via an Academy. "We've added roles in almost every discipline," said Kaye. "We currently have a team of over 70 employees across the group. The geographical footprint of our partners is diverse so we have a regional business development team to enable that nationwide level of support.
"The advent of Covid-19 and subsequent move to remote working is another major factor driving our current growth, proving that the TelcoSwitch technology and platform, as well as our operational teams and processes, work effectively."