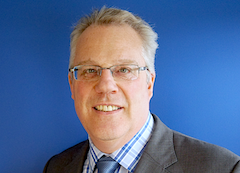 Newly appointed Comstor UK&I Managing Director Clive Hailstone once believed that his default mode lay in being a geologist, but a clear need for alternative thinking showed him that his destiny was really in building rock solid channel partnerships that stand the test of time.
Brimful with optimism Hailstone left university with a fervent belief that his long-held aspiration to become a geologist would be rewarded. But when Hailstone found himself stuck between a rock and a hard place a fresh way of thinking was required. "The geology dream didn't turn into a reality and I needed a job," he recalled. "Fortunately, a local IT company was recruiting for keen sales people. The rest is history. I am naturally inquisitive which means there's always something to learn, and these personal traits dovetail neatly with the ever-changing and evolving ICT market."
Hailstone now has 30 years channel experience under his belt, the last ten years spent as Sales Director at Comstor working closely with partners, making him the prime candidate when the new UK&I Managing Director position presented itself. "I value the experience and knowledge gained from starting at the bottom and working my way up," he stated. "You have to prove to yourself you're right for your next role, and the great advantage is no-one can pull the wool over my eyes because I've already been there.
"Listening to partners has given me a strong foundation to understand and appreciate their challenges and where opportunities for growth reside. As a sales guy you always want to make a difference, and having spent a lot of time at broadliners you want to make more than just an operational difference. You want to make a real difference, developing new propositions, closing skills gaps, opening up opportunities with new technologies, anything that helps partners profit and grow. Now I'm fortunate to be in a position to draw on all that experience to help mould a business that can create value for partners."
Comstor's requirement for a UK&I head honcho emerged as the company sought to leverage the separate strengths of its Comstor and Westcon brands. Now firmly in the hot seat, Hailstone's priorities are two-fold. "We must ensure that Comstor remains a fulfilling place to work and constantly improve our efficiency and operations," he said. "Secondly, we have the value creation piece, developing our propositions across the Cisco architectures and applying our resources to help fuel the success of our partners."
Comstor's heritage as a Cisco only distributor has always been rock solid. The company (RBR Networks in the UK) was acquired by Westcon (itself founded by three visionaries in a garage during distribution's formative years back in 1999) and now brings a global capability, additional services and resources. "Since then we've operated as a Cisco-centric distributor effectively acting as an extension of its sales, marketing and technology organisation," added Hailstone. "It's something that benefits everyone - customers, partners, Comstor and Cisco."
Historically, the business was built on the back of big service providers and one-tier partners, but it has transitioned to include a number of two-tier partners, many of which are not self-sufficient on Cisco. "We're now a much more resource based business," explained Hailstone. "A key moment was the Westcon-Comstor acquisition of Intact which added professional services and extended our geographic capabilities. We became far more relevant to more Cisco customers and the acquisition was a step-change in our fortunes."
Another, bigger acquisition undertaken by bedfellow Cisco is currently being tied up, and its implications will also be utterly transformational, believes Hailstone. "The BroadSoft deal is not closed so the detail is still to be understood," he said. "We wait with bated breath. But what is certain is that it will open up a lot more of the SMB market and those customers that are looking for a cloud-based voice solution. When BroadSoft is integrated into Spark to create an end-to-end collaboration solution the story becomes compelling. We can't wait for the moment that happens as it brings our value closer to many more customers that want to diversify across Cisco architectures and get into security, services, data centre, more networking and the cloud. It presents a great opportunity to grow."
Comstor has grown consistently over the years and a key factor in its success is a policy not to chase volume. "We grow from working with partners committed to building their business, embracing new technologies and working together to open opportunities," stated Hailstone. "We work with all manner of partners now, from global service providers to vertical specialists to MSPs. But they all have one thing in common - a pledge to deliver innovation through Cisco-based technology."
Comstor's workflows and processes have been greatly improved following the launch of a new global ERP system. Its implementation has transformed working practices with enhanced e-commerce tools, making the distributor's integration with Cisco much stronger. "That brings greater efficiencies, freeing up time to put into partners," noted Hailstone. "Partners have wider access to our resources, giving them the ability to position the right solutions, add value and drive a more rapid transition to new markets and technologies. Current examples include security and software."
New technology areas of interest also include Cisco's Network Intuitive and its DNA - Digital Network Architecture - which have catalysed a new conversation about how networks can underpin digital transformation. "The central role of software has come to the fore, and Software Defined Networking, SD-WAN and Network Function Virtualisation technologies will become far more mainstream," stated Hailstone. "Organisations are looking at how they can revolutionise their operations and competitiveness. Therefore agility, improved customer experience and security become crucial. This is where Cisco's end-to-end technologies help simplify a complex world."
Technology made simple is a strategy that appeals to new partners, whether they are born in the cloud, previous software centric partners, boutique security players or service providers of all sizes, observed Hailstone. "The market and technologies are changing so quickly it's the agile partners that are the ones able to grab new opportunities and advance," he added. "By being new to Cisco, there's even greater need for them to leverage the skills and resources we have at Comstor. That may be technical, pre-sales, deployment, managed support services, financial, provisioning, logistics, training, education and all those services that ensure a solution does what is intended. How organisations adapt to and adopt the cloud is interesting, and offerings like Cisco's integrated solution for Azure Stack will help partners of all kinds open new opportunities with their customers who need a full hybrid capability."
The overriding and recurring theme in Hailstone's discourse is Comstor's role as a technology provider and enabler for partners that want to springboard into the distributor's primary markets, thereby harnessing the digital revolution. "As a channel we have a remarkable record of change and adapting to new forces of change," he said. "Successful partners have embraced this and accept that while they have a core business to service, a proportion of their time and resource will be spent looking at what's coming down the line and how they can best exploit the opportunities.
"We now service a more agile and diverse partner base and I'm always aware that how you do things says more than what you've done. In this respect I've always stayed close to partners and customers, ensured the focus is on the partner and the challenges and opportunities they have, so that I, and the business I run, can play an active role in addressing those. Despite the frustrated geologist in me, I love the cut and thrust of distribution. So long as it's value distribution."•
Just a minute with Clive Hailstone
Role model
I don't have any particularly. There's a difference between modelling yourself on someone and admiring talented and influential people. If I could have the swing of Jack Nicklaus I'd be happy though
What talent do you wish you had?
To be better at golf
What do you fear the most?
Forgetting my wedding anniversary
Tell us something about yourself we don't know
I was in a multi-Oscar winning film as an extra - the quad scene in Chariots of Fire
Name three ideal dinner guests (past or present) and why you'd invite them
Billy Connolly, for what I imagine sheer great company and stories, sat next to Donald Trump who would no doubt be an entertaining presence, and if anything kicked off then having Nigella present would soothe, serve wit and irony, and feed my need for knowledge of cooking and food.
What are your strengths and what could you work on?
I recognise the aspirations and demands of the partner community, match that with vendors and bring the two together. But I've always been hugely optimistic, so need to rein this in when it comes to budget rounds
How would you like to be remembered?
As a good father and husband
Name one thing you couldn't do without in your job
Having a naturally inquisitive team
What possession could you not live without?
My trusty putter
Give one example of something you've overcome
Forgetting an anniversary
If you weren't in IT what would you be doing?
A globe-trotting geologist. The Brian Cox of rocks
How do you relax when not working?
Golf is a passion of pain, hard to relax at unless at hole nineteen though
Top tip for resellers
Keep close to your customers