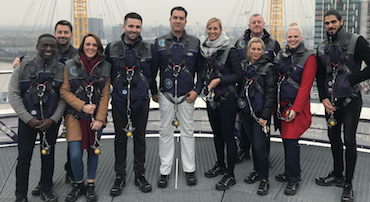 Cheshire-based wholesale UC provider Zest4 hosted a conference with a climb to the top of the O2 high on the day's agenda.
The day, which was attended by a select group of partners, involved a number of sessions and workshops with M2M and the IoT featuring prominently.
Next came a climb to the top of the O2. "Despite the chilly weather the view was fantastic, and it was a fitting way to illustrate how partnerships can lead to great new heights," stated Mandy Fazelynia, Operations and Business Development Director.
The day concluded with an evening performance by John Bishop inside the O2 where staff and delegates met the comedian in person after the show.