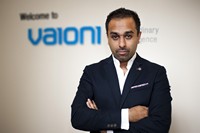 Channel Ethernet Connectivity and Cloud Solutions provider Vaioni Wholesale has made a significant long-term investment in Juniper to supply premium routers for customer leased line deployments.
The company decided on Juniper for many reasons, as Managing Director Sachin Vaish (pictured) explained: "Whilst Juniper and Cisco have strong pedigree in the CPE market, both vendors are similar in the delivery around performance, features, reliability and service, however we decided that Juniper is a better fit for us and our partners around flexibility and commercials.
"Our goal is to provide our partners the latest technology and features, so we can continue our quest in delivering the most comprehensive and fastest Ethernet products in the market, coupled with automation around SDN and NFV as we roll out a bigger, smarter network", added Vaish.
The new Juniper CPE range covers all Ethernet Technologies and speeds up to 1Gbps.