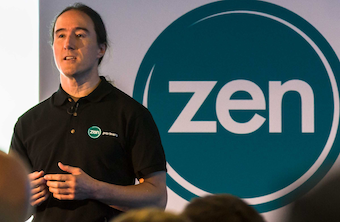 Zen Internet is poised to scale up as CEO Richard Tang (pictured) and incoming Chairman Paul Stobart join forces to meet near and long-term revenue targets of £100 million and £250 million. How? By putting people before money.
Zen's sky high growth ambitions rest on a new management structure and the appointment of the company's first board of directors headed up by incoming Chairman Paul Stobart, who while at Sage was instrumental in driving revenues from £120 million to £1.3 billion between 1996 and 2011. Zen already has a 430-plus headcount and generates revenues of £63.7 million, representing 11 per cent annual growth, and according to Tang drafting in Stobart is a clear sign of the company's strong intent to significantly scale up as a major contender in the UK market.
"We are growing quickly, accelerating our growth and aim to become a £100 million business within three years," stated Tang. "To make the most of this opportunity we needed a stronger directorship team and Paul is absolutely the man to lead it having grown businesses to achieve real scale. The separate board will work closely with the senior management team to unlock new opportunities for growth."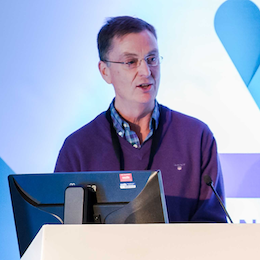 Zen's strategic objectives were revealed at the company's annual partner conference, this year staged at Manchester's Museum of Science and Industry. At the event Stobart (pictured) said: "Zen's growth ambition is colossal as we target £250 million revenue over ten years. The new board was created because Zen recognises that to accelerate growth it needs an element of check and balance, an element of governance and strategic underpinning to help it succeed in its ambitions. With the convergence of voice and data, the emergence of cloud-based services and a multitude of other propositions coming onto the market, the opportunities for channel partners and Zen have never been better."
Among these opportunities are ultrafast FTTP and G.fast technology, noted Managing Director for Channel Stephen Warburton. He also pointed to big strides made in the development of Zen's partner portal and learning zone, both emblematic of the company's transition from 'simple ISP' to a provider of Ethernet, IP VPN, voice and cloud services plus next-generation connectivity.
Tang also cited Zen's independent status as a strength that stands in opposition to 'the sometimes catastrophic short-termism of companies beholden to shareholders and share price'. "My quest is to make the world a better place by inspiring people to run businesses in a different way and encourage behaviour that's more sustainable," stated Tang, who founded Zen 22 years ago. "At Zen we have created an environment where the people come first and the money comes second. I own the shares, so I can determine how we operate and focus on the long-term; whereas companies within the stock market system for example don't have that luxury.
"Of course, Zen has to make money, grow, be ambitious, be shrewd and work hard like any other business, but these aspects are all subservient to the people objective which drives decision making throughout the business. I always consider what more I can do to extend the reach of a new and better system by inspiring others to take action, to start a movement and change the system. If you want to change the world, start at home."
Tang hopes that his social enterprise mission will serve as a wake up call to what he believes to be a flawed business environment - a vision that is shared by Stobart. "Zen is not all about financial achievement," he concurred. "Developing a people-first culture within the business that's also felt across the customer base is important. Having happy people, happy customers and happy suppliers is the mantra that works well for Zen. My own philosophy aligns with this because inspired people deliver the experience that customers want, which means they stay loyal, buy more and are likely to make recommendations. The financial results follow as a consequence."
In addition to Tang and Stobart, Zen's first board of directors includes Finance Director Matt Kay, a Human Resource Director yet to be appointed, along with two Non-Execs. "As CEO I'll be balancing which opportunities to focus on and which to leave behind," added Tang. "We're in a market that offers many more opportunities than we have the capacity to pursue, which is a great situation to be in."