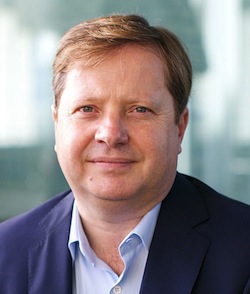 TalkTalk Executive Chairman Sir Charles Dunstone (pictured), one of the UK's most successful ICT entrepreneurs, will outline his vision for the future of the industry at Comms Vision next month (to be held at Gleneagles, 8th-10th November).
Event organiser Comms Dealer has confirmed that the industry giant will join a line-up of inspirational speakers at this year's conference, which will again bring together over 200 of the UK's leading resellers and suppliers servicing the private and public sectors.
In a session entitled 'From mobile retailer to major network operator - disrupting a market and building a culture to drive growth', Sir Charles will take part in an exclusive conversation and share his thoughts and experiences on challenging the status quo and stepping outside the norm, while creating a business culture that fuels growth and puts the customer first.
Sir Charles founded Carphone Warehouse from his Marylebone flat in 1989 on £6,000 of personal savings, after his job selling mobile phones led his ever entrepreneurial eye to spot an opportunity in the marketplace for providing mobile phones to individuals and small businesses.
Carphone Warehouse launched a landline service, TalkTalk in 2003, and the companies demerged in 2010.
In June 2012 Dunstone received a Knighthood for services to the telecommunications industry and his charitable work. He is also currently Chairman of Royal Museums Greenwich and BAR Racing.
Sir Charles commented: "I'm looking forward to this year's Comms Vision at Gleneagles in November and in particular having the opportunity to get to know our partner community better. Having worked in UK telecoms for over 25 years, I love the industry and have always found these events a great way to meet people and explore ways to do more business together."
In another keynote announcement Mark Rhodes, author and international leadership speaker (in association with Platinum sponsor 8x8), will consider how the future success of digitalisation in the workplace is as much about effective leadership development as it is technological innovation.
"Both constantly evolve, both require new skills, both are driven by disruption, and both are essential to moving away from the status quo," he said.
In his keynote address Mark will explain what transformational leadership means in the more complex digital workplace, and why business and cultural change is imperative and achievable without having a negative impact on customer service.
To find out more about this year's inspiring conference speaker line-up please visit www.commsvision.com.
About Comms Vision
Comms Vision is the leading annual leadership forum for CEO, MD and CTO delegates making up the major league of the UK reseller community. Places are limited and by invitation: If you would like to join us this year, please register your interest to attend at www.commsvision.com