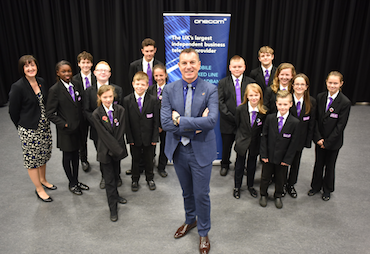 Whiteley-based Onecom CEO Darren Ridge wound back the clock to motivate and spot young talent with a return trip to the school he left 40 years ago.
During assembly at Havant Academy, Leigh Park, Ridge challenged pupils to predict the future of technology and launched a competition among students to find the most transformational app, service or technology idea based on the IoT.
Split into two age groups the pupils will work with Academy staff and a mentor from Onecom to develop their ideas having been encouraged to think about how the IoT could be used in the future for personal, social or business use.
The winners in each age group will receive a Galaxy S8 smartphone with virtual reality kit.
"I'm not just here to put something back," stated Ridge. "I'm a businessman at heart and have a vested interest in finding the bright young things of the future in the hope that they will come and work at Onecom.
"Any organisation is only as good as the people in it, and Onecom is built on hard workers and innovators. If I see an idea there that I think has potential, I will back it 100%.
"It's not always easy, but with hard work, dedication and a plan, you really can achieve anything."