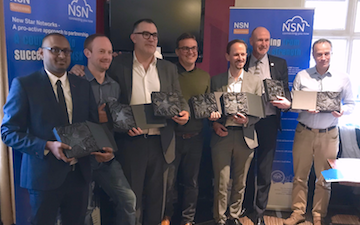 A north London pub was renamed 'The NSN Arms' for the day for the staging of the service provider's inaugural partner networking and awards event.
Star award winners were Ferrin Govender, who was named Top Sales NSN Executive for 2017; David Rushton, who collected the Best SIP Network Provider Award for Gamma; Simon Durrant, who received the Best Data Service Provider Award for Virtual1; Phillipe Matos who picked up the Best Hosted Provider Award for MyPhones; and Howard Richards who secured the Best Billing Platform Award for Anvil.
Reseller winners were Mike Hill, Top Partner and David Perryman Best Newcomer (Partner).
The awards were presented by Comms Dealer Editorial Director Nigel Sergent who told the assembled guests: "This is reminiscent of days gone by when we ran post TMA exhibition parties at the 'Comms Dealer Arms' in Brighton which were a lot of fun.
"Mark Shraga and the NSN team should be congratulated for rekindling a great networking concept and acknowledging all of their partners with their own awards process."
David Ruston UC Account Director at Gamma added: "This was a really good event with top people. In my 19 years in telecoms it's the first time I've received an award from a partner!"