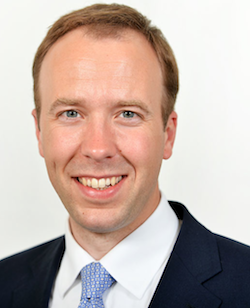 Following his address to the Broadband World Forum last year when Minister for Digital Matt Hancock set out plans for a full fibre future, his focus at this year's Broadband Stakeholder Group 2017 Conference was on 'the exciting momentum' that is building.
"In total we are investing £1.1bn in our digital infrastructure to support the next generation of fast and reliable mobile and broadband communications for consumers and businesses," he stated.
"And to support businesses we are introducing 100% business rates relief for operators who install new fibre on their networks.
"Superfast broadband is also now available to over 94% of premises, on the way to hitting our target of 95% by the end of the year, and on mobile, the MNOs are legally obliged to reaching 90% geographic coverage by December."
Hancock noted record levels of investment into the altnets, including £500m from Cityfibre and £200 million from Hyperoptic.
Openreach has established its independent board and declared its clear direction in the pursuit of the full fibre future.
"We have secured over a billion pounds more of taxpayers' money for next generation technologies and we have introduced rate relief for putting new fibre into the ground," added Hancock.
"This effort demonstrates beyond any doubt the UK Government's commitment to a full fibre and 5G future. We are guided by our mission to deliver full connectivity where people live, work, and travel.
"I said a year ago that I will be on the side of the challenger, helping in every way I can to deliver fair competition and a level playing field. I meant it then, I mean it now. I'm delighted the Altnets are going from strength to strength."
CityFibre, which is already in more than 40 cities, has announced plans to extend its network in more than ten extra cities across the UK.
Gigaclear is bringing ultrafast speeds to consumers and their network now spans over 15 counties.
"Community schemes like B4RN and others are expanding," added Hancock. "Indeed INCA has estimated that coverage from its members could potentially reach 18% of UK premises by 2020. We welcome these developments and encourage more.
"For while the existing copper network is important today, a copper-to-the-premise solution is not fit for the future. We cannot stress enough that full fibre is the future.
"UK full fibre coverage is just 3%. This will not stand. We will strain every sinew to get it rolled out in Britain.
"Over the last year we have unveiled a suite of policies to get the UK's full fibre roll out going. Like the CTTP roll out, this is a mixed-economy approach: with some taxpayers' funding, but the majority of funding from the market.
"First, we are helping to level the playing field by supporting insurgent altnets reach their fibre ambitions through the Digital Infrastructure Investment Fund, which will improve access to commercial finance.
"Next, we are investing £200m to fund locally-led projects across the UK. This Local Full Fibre Networks programme aims to provide the fastest and most reliable broadband available.
"Working with providers and local bodies we have shaped a programme focused on improving the business case for the private sector to invest in fibre networks, and to connect even more homes and businesses."