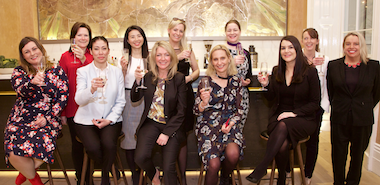 Male domination at leadership level could impede the comms industry's potential for growth, intensifying calls for greater gender diversity during a round table discussion (attendees pictured) last month on the current and future role and population of women in ICT.
The debate (hosted by 9 Group in association with Comms Dealer) followed the release of a new McKinsey report that confirmed a strong link between gender diversity on executive teams with profitability and value. The report says firms in the top quarter for gender diversity on executive teams are 21% more likely to outperform on profitability while 27% could expect superior value creation.
Responding to the round table discussion Louise Gulliver, MD of Professional Development & Membership at the IoD, said: "Barriers to women's success persist in the ICT sector. Part of the solution must come through policies aimed at education and ensuring that women aren't put off from taking technical subjects, including computing, at school and university. To do this we must highlight the success of female role models in the ICT industry."
Attending the round table debate was Entanet CEO Elsa Chen who said: "Examples of success in the industry are typically male. We need to address this imbalance to share and embrace a different success model that women can bring."
Report confirms that women execs create more value
How well a company performs is directly linked to the proportion of females occupying senior management roles, according to a McKinsey report (Delivering through diversity) published in January 2018. 
The study correlates gender diversity with both profitability and value creation, and found that UK businesses in the most gender diverse quarter are 15 per cent more likely to experience above-average profitability than organisations in the fourth quartile. 
The report also confirmed that executive teams of outperforming companies have more women occupying line roles versus staff roles. 
Tech sector continues to lack female workers
The UK tech sector employs far less women than most other industries. Just 17% of the workforce is female. 
Even worse, a European Commission study published last month entitled Women in the Digital Age found that there are four times more men than women in ICT-related studies, and reported a drop in the number of women taking up ICT related higher education compared to 2011. 
The study also calculates that the European economy is worse off to the tune of circa 16.2 billion euros due to women leaving their digital jobs.
Round Table Debate: Why it's time to make gender diversity a priority - full report