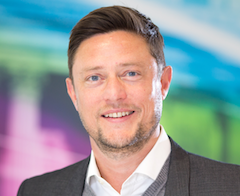 Gamma's self-serve marketing portal launched in January this year has notched up almost 500 users and continues to evolve according to partner feedback.
The portal, called Accelerate, was developed as a simple way for partners to rebrand white label marketing material, carry out integrated campaigns to generate new leads, and more effectively engage with prospects and customers to drive sales.
Accelerate offers a range of campaigns for vertical markets and end-to-end purposes such its latest campaign-in-a-box which includes thought leader style eGuides, infographics, white papers, email templates and social media posts.
"Campaign-in-a-box gives partners all of the tools they need to run lead generation campaigns to help them build their pipeline and boost revenue growth," stated Justin Coombes (pictured), Head of Marketing at Gamma.
"Shortly after launching Accelerate we sought feedback from our partners on how we could make it work better for them.
"As well as regularly adding new white label material we've enhanced the email templates and content syndication to give partners more flexibility when it comes to personalising their campaigns.
"Listening to their feedback has helped us to shape Accelerate into a marketing tool that seems to be hitting the mark."
Partners can run campaigns using their own systems or use the campaign feature within Gamma Accelerate which provides email marketing capabilities with landing pages to capture leads, as well as marketing automation to help partners nurture leads until they're ready to engage with sales.
"Accelerate includes a built-in social media tool and content syndication capabilities," added Coombes. "The content syndication feature lets partners subscribe to relevant product content and website banners which can then be automatically published onto their website.
"Partners can also use this feature to automatically feed posts through to their social accounts."
Gamma has also introduced the option of a managed marketing service where the company sets up and runs the campaign through Accelerate on behalf of partners.
Another development enables partners who sell through their own dealer base to co-brand Gamma's white label material, enabling them to support dealers when running their own campaigns.