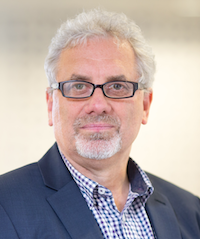 Cloud infrastructure services are available to Gamma partners following a link-up between the comms provider and Amazon Web Services.
According to Gamma the new Infrastructure as a Service (IaaS) offering is straightforward and reflects a market shift to the public cloud from where organisations can run their normal business applications.
"This shift is a lucrative opportunity for the channel," stated Product Manager Steve Ashley-Brian (pictured). "With Cloud Compute they can leave the infrastructure bit to Gamma while they focus on what they do best - delivering a stand-out customer experience.
"Cloud Compute provides a direct alternative to the traditional on-premise or data centre hosted servers and are accompanied by appropriate storage, security and networking facilities," added Ashley-Brian.
"This means there is no need for the customer to own, manage or maintain any of the underlying hardware. They can simply manage their applications without needing the skills or resources to support them.
"We've developed our existing portal to simplify the quoting and provisioning process, making Amazon Web Services easier to quote, order and provision. Our free training and accreditation process has already seen a number of partners successfully gain access to the service."