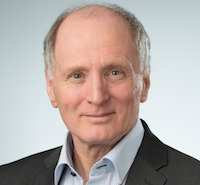 Gamma CEO Bob Falconer (pictured) is to step down after 15 years at the helm. He will retire after this year's AGM and Andrew Taylor has been named as Chief Executive designate. He will join the Board as an executive Director on 4th April and take over the role of Chief Executive following the conclusion of the AGM on 23rd May 2018. 
Gamma was a small but established company with 35 staff when Falconer took over in March 2003. The business now has a headcount of 900 and generates well over £200m revenue with a market cap of circa £700m. Gamma has more than 1,000 channel partners, over 300,000 Horizon seats and 700,000 SIP trunks in use.
When Gamma went public in October 2014 the share price was 187 - it's now 760.
Falconer will remain involved in the business over the coming months to ensure a smooth transition and handover.
Taylor has over 22 years experience in the telecommunications industry and a strong track record of achievement in previous roles, both in the UK and internationally.
Until recently he was Chief Executive Officer of Nomad Digital, a provider of IP connectivity and digital solutions to the global transportation sector.
In this role (2013-2017) Taylor was responsible for establishing Nomad as a major player in the sector, and when acquired by Alstom in 2017, was serving over 50 global customers from 20 offices. 
 
Before joining Nomad he was Digicel's Regional Chief Executive Officer (2012-2013), with responsibility for all fixed and mobile operations across the Northern Caribbean.
Here, he had responsibility for all fixed network services and business/ICT solutions across 26 international markets, and was responsible for driving significant growth in both revenues and profitability. 
From 2008 to 2010 Taylor was Chief Executive of Intec Telecom PLC, a provider of software solutions, with over 400 customers located in 120 countries, and served by over 1,700 employees.
After a period of significant growth and business improvement, Intec was acquired by CSG in 2010. 
In the period before 2008 Taylor held a number of management and operational roles across the telecommunications industry, including senior positions at both Alcatel-Lucent and British Telecom. 
Falconer, who is 67 in May, said: "I want some time to myself before I fall apart! It is good to leave when things are going well and on a high.
"When we floated I indicated to the board that I would give it a couple more years so they have had time to think about a successor. They have found a good candidate and I was involved in the process. I won't be rushing out of the business. It's a managed process."
As far as the channel is concerned Falconer noted that there is no plan to do anything different. "My message to partners is, you won't see much change with Gamma," he added. 
"Andrew's remit is clear and he is not coming in to rework anything. But we are going into buy and build mode. It's about building on the momentum."
Falconer is most proud of building the business steadily from 2003 through to now with consistent growth in revenue and EBIDTA and staff. 
"We never went through any major restructuring and we sailed through the 2008 financial crash," he said. "It's been about achieving growth in turnover, growth in profit and growth in people without any disruption which is a difficult thing to do.
"I would like to thank everyone I have worked with. I will miss the people and the camaraderie. I think the channel is great and I love the people in it. I love its dynamism, I love its challenge, I love the way it works.
"After I have cleared out the shed, I'll probably get bored and come back to do something!\"