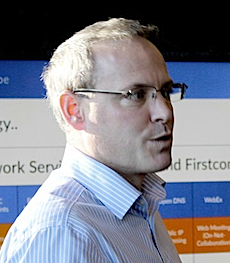 Cloud comms provider Firstcom Europe has bagged contact centre specialist Difference Corporation, adding dialer technology, inbound call handling, automation services, collaboration, social media, email and SMS management tools to its portfolio.
The deal boosts Firstcom Europe's revenues to 5.6m euros.
Difference Corporation has offices in Newport (Wales) and Edinburgh and its acquisition follows previous buyouts in the UK, Denmark, Sweden, Poland and Germany.
Firstcom Europe CTO Adam Crisp (pictured) commented: "This acquisition gives our sales partners access to a new set of communications services backed by a team that complements Firstcom's skill sets."
Jean-Pierre Vandromme, Firstcom Europe's CEO, added: "Difference is the seventh acquisition for the Firstcom Europe Group in four years. We expect to close another three acquisitions in 2018 which would bring our expected revenue to over 50m euros. Our goal is 100m euros by 2020."