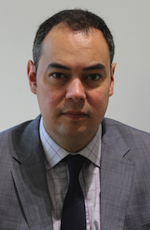 The distribution of Content Guru's platforms has become a notable cloud sensation with global proliferation well advanced and a string of king size partnerships neatly bedded in.
The company has been busy seizing opportunities across Europe and is pressing ahead with US expansion plans which its founders could only have dreamed of when they established the firm eight years ago.
Since then Content Guru has grown from a small early pioneer of cloud communications services to become one of Europe's largest providers, and according to co-founder and Managing Director Sean Taylor (pictured) this is just the start of his long-term international expansion plan.
Content Guru now has platforms in the UK, Ireland and the Netherlands and is currently rolling out infrastructure in the USA with Asia to follow. The company now operates services in over 30 countries, but one notable partnership stands out today.
"We are seeing particular success with KPN Telecom, the national carrier for the Netherlands," explained Taylor.
KPN is one of the largest telecommunications businesses in the world with revenues of almost 13 billion euro and a staff headcount of 25,000-plus. And Content Guru's flagship storm CONTACT service has been adopted as KPN's exclusive cloud contact centre solution.
"KPN's iBasis wholesale division is one of the world's largest carriers of international voice traffic, supporting more than 1,000 fixed and mobile operators," commented Taylor.
"Introduced in 2012, the storm service is now an integral part of KPN's customer offerings and has already helped KPN to attract over 50 major new customers in the Benelux region."
The storm enterprise-grade contact centre solution is now used by a diverse range of European organisations, from SMEs to major multi-national corporations and government departments, pointed out Taylor.
"These customers are taking advantage of the flexible and modular nature of storm's licensing model to ensure that their communications facilities can be tailored for their evolving needs, both in terms of scale and functionality," he added.
One example is Shell, the global energy and petrochemical company, which is using storm to provide an automated application that connects customers to relevant information and services.
Meanwhile, international Dutch fashion retail chain C&A, which generates annual revenues of over 6 billion euro, uses storm to run an intelligent store location service.
Rabobank, which holds global assets worth over 800 billion euro, has also become a user of storm following Content Guru's move into the continental European market.
"With more than 56,000 employees worldwide, Rabobank's need for an advanced communications solution has been met by storm's over-the-phone menu and integrated disaster recovery," stated Taylor.
Building on its European expansion Content Guru has set its sights on the American domestic market, following requests from multinational corporations for storm's service wrap to be extended to their US subsidiaries.
The storm USA cloud platform is on target to be deployed during the last quarter of this year and will offer the full range of storm services, with an emphasis on the platform's cloud contact centre capabilities.
Key to success is the heavy investment Content Guru puts into developing the storm platform. "A series of advanced products will be launched into the market over the coming months," said Taylor. "These include the DTA, a new user interface that will make accessing storm's capability set simpler and more intuitive."