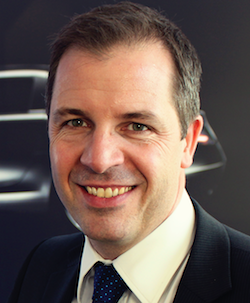 A new phase of growth beckons Manchester-based 4net Technologies following an investment by YFM Equity Partners which has acquired a minority stake in the business. As part of the deal Iain McKenzie has been appointed Non-Executive Chairman of the Avaya Diamond partner.
McKenzie has founded and built a number of businesses including Mettoni Group which he sold to Enghouse in 2010. He then ran the Enghouse EMEA/ASIA business for five years, growing revenues from circa $30m to over $100m while integrating multiple acquisitions.
4net Technologies was founded in 2005 by Richard Pennington (pictured), Frank Jennings, Michael Jervis and Steve Tyrrell.
The founders will retain the majority shareholding and continue to run the business with the same management team.
Contract wins to supply hosted cloud contact centre services to a number central Government departments have made 4net's recent growth especially notable.
Pennington, MD, said: "Our revenues have broadly doubled in the last two years, supported by some significant customer wins, and I expect further strong growth in the next few years.
"These wins included a contract for a major utility providing hosted contact centre services to approximately 3,000 seats and a significant Central Government contract through the RM1045 public sector framework, utilising our own 4net Agile Cloud service called Antenna.
"We have around 12,000 users under contract already and expect to win business from several other Government departments off the back of it."
He added that 4net's strategy is unlikely to change significantly following the YFM deal.
"We will remain focused on cloud and managed services, UC and contact centre solutions for enterprises and public sector organisations.
"Our immediate priority will be to manage the ongoing rollout of our major contracts, as well as land several other good sized opportunities in the pipeline.
"The investment from YFM allows us to accelerate the next phase of growth and gives us the opportunity to capitalise on the significant success and progress we have made in serving customers across enterprise, public and Government sectors.
"It will also allow us to accelerate the development of intellectual property that adds value to our customers' digital transformation strategies and will provide us with the opportunity to enhance services and possibly pursue relevant acquisitions."
Nigel Owens, Investment Director at YFM, said: "4net has established a reputation in providing innovative solutions to its corporate and government customer base, which has fuelled impressive growth.
"This is the fourth investment from YFM's 2016 Fund, which closed in April 2017 and represents another good example of investing in well established regional businesses from the YFM network in the £2-7m investment market."
TMT firm Knight Corporate Finance advised 4net on its YFM investment.
Paul Billingham, Director at Knight, said: "Having seen lots of private equity investment in the ICT sector, and with a number of new opportunities being developed by the business, the team at 4net were keen to understand how private equity could help accelerate their growth over the next few years."