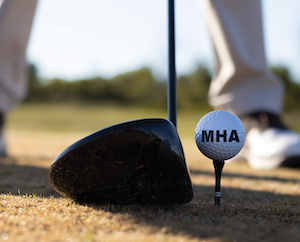 The ICT mental health charity MHA continues to help people in need of a friendly ear and advice, and now the organisation is urging more industry businesses to get involved so it can take the support it offers to the next level.
Founder Peter Orr is hoping ICT companies will help the charity recruit and train more MHA Associates who are needed to cope with the continuous demand for assistance with mental health issues. "We have some wonderful Associates on board who are helping people working in all sectors of the ICT industry across the UK, but our recruitment has halted purely due to lack of funds," he said. "If just a few organisations were to get behind us and pledge a few thousand pounds it would make all the difference."
One way big companies could support the charity would be to sponsor a hole at the MHA Golf Day which will be staged exclusively for golfers in the ICT industry on 13th September 2021. Brocket Hall in Hertfordshire is not only one of England's finest stately homes, but also home to two of the finest golf courses in the UK and the MHA golf day will give sponsors a unique opportunity to offer colleagues or clients the chance to play at one of the finest venues in the UK.
Both courses regularly play host to professional and members' tournaments as well as Pro-Am tournaments where members can meet and play with professionals from around the world.
Here is the run down on the day:
• Twenty teams of four (individuals can apply).
• Corporate opportunities to sponsor a hole.
• A great day of golf in wonderful surroundings.
• A chance to catch up with industry friends and colleagues.
• Dinner with some football legends to end a great day out.
"Obviously, fundraising has been difficult over the course of the pandemic and we wanted to celebrate the return to some kind of normality, by staging an ICT golf day that raises money for an ICT charity," added Orr. "We already have holes sponsored by Cisco and IBM, so we still have 16 slots available. In truth, if we managed to get all of these sponsored our funding issues would be resolved in one day!"
MHA provides listening support and signposting to anyone in the industry suffering with poor mental health and anxiety, but funds are needed to keep providing:
• MHA training for local Associates who provide peer support.
• The MHA telephone listening service.
• An MHA in-house trainer and administrative support.
• MHA Awareness days and workshops.
To book your team or sponsor a hole at the MHA golf day email: Peter.orr@mentalhealthassociates.co.uk or call him on 07766 088775. Individuals can apply.• For further information on MHA workshops, the golf day fundraiser or becoming an Associate, email peter.orr@mentalhealthassociates.co.uk
• If you need help urgently go to www.mentalhealthassociates.co.uk or call 03301 244 338.