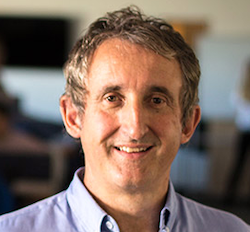 UKCloud's capacity to provide the public sector with the critical hyperscale cloud services it needs should be celebrated as a victory for the channel.
Here, CEO Simon Hansford outlines what it takes to effectively compete with the tech giants.
Good news: UKCloud's selection as one of nine suppliers on the new Crown Commercial Service's (CCS) Cloud Compute Framework (which provides a route to market for public sector organisations to adopt hyperscale cloud deployments directly from suppliers) proves the system is working well for smaller cloud providers. "There is no longer any excuse for the public sector to assume it can only fulfil hyperscale requirements from the tech giants," stated Hansford. "This opens up the market for the UK public sector and we believe this will be a very welcome development for many buyers as competition and choice drive value, resilience and innovation."
Hansford noted that to secure public sector opportunities and places on key frameworks resellers need to be focused and invest. "There are no easy wins and it's certainly not a nirvana to easy selling," he added. "But, with focus and after gaining an understanding of the market there are many opportunities."
UKCloud has been part of the One Government Cloud Strategy since its inception in late 2019. Led by Cabinet Office and GDS, this was about helping Government understand its future cloud strategy, the capabilities of the market and how to ensure maximum benefit for the public sector. "It included a small group of cloud providers and that led to UKCloud signing MOUs with Cabinet Office and gaining Strategic Cloud Provider status," said Hansford. "This work identified the need for a new framework and eventually led to the Cloud Compute Framework."
UKCloud was one of four smaller UK cloud providers (UKFast, Fordway and Frontier) that have now proven beyond doubt that hyperscale public cloud is not solely within the domain of the global cloud providers. The technical criteria set by the CCS were very specific. But Hansford was confident that UKCloud's services met the hyperscale requirements of the tender. "Gearing up was more a case of ensuring that we kept tabs on the timelines and had the right resources available when the tender went live," he added. "Our preparation involved dialogue with CCS around potential clauses and outcomes that we felt might disadvantage the best outcome for the public sector. Now that we're listed we're dedicated to showcasing how we can boost public sector organisations."
There is no longer any excuse for the public sector to assume it can only fulfil hyperscale requirements from the tech giants
The framework's qualifying requirements included an emphasis on social value and sustainability which has become a key factor in public sector procurement. "It's a great testament that the framework names four UK cloud providers," stated Hansford. "It shows that we have a national capability to produce socially benefiting public cloud services, and that the choice is not, and should not be, limited to three US providers.
"Social value has always been a key focus for UKCloud and should be one of the main criteria for all public procurement. It's something we have been calling upon and continue to believe a better and tighter definition is needed that benefits the UK economy. We recently announced that we're the first tech company to receive the Social Value Quality Mark Level 1 by Social Value Business, and are quickly working towards Level 2.
"Greater regulation to enforce the prioritising of social and sustainability values throughout procurement will benefit us all. It cannot happen quickly enough. While it is mandate in public procurement, it needs to be more rigorously enforced and measured. The benefit to the UK taxpayer and economy is enormous and we're missing out on opportunities."
Hansford says public sector institutions deserve a high level of innovation and cyber security care, which is what drives the company to offer multi-cloud services that can make a tangible impact and nurture innovation. UKCloud, UKCloud Health and UKCloudX are different brands focusing on local government, central government, police and justice, health and defence covering all aspects of civil service. The firm's key partners include Cisco, Microsoft, Red hat, VMware and over 300 partners that deliver solutions into the public sector on UKCloud's platforms.
UKCloud currently employs 280 people which will grow by 20 per cent this year. And the Board has signed off an aggressive investment plan that will see the business develop and expand in many areas, both organic and inorganic, and across several new markets. "Delivering quality infrastructure and services at speed will certainly define service providers in future," commented Hansford. "It's no longer about if providers can do it, which many can, it's about the quality and speed in which projects and services can be launched to make a real impact in our daily lives as users and citizens."