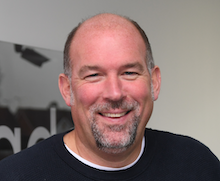 Few, if any, classically trained musicians compose a business growth story in the comms sector, but here's how Pescado Managing Director Fraser Watson orchestrated one of the fastest growing ICT providers in Wales.
Watson, who holds a university degree in classical music, also has an ear for fine tuning strategic growth plans. Last year Ewloe-based Pescado registered £11.5 million turnover, a £1.5 million increase on the previous year. To support this growth the company has added 10 more full-time staff taking its headcount to 65 as it targets £13 million turnover in 2019.
Pescado, which has circa 3,500 business clients, was founded by Watson and Jonathon Weeks in 2006. The pair first met during a stint working for Iceland in retail management. "The B2B market was overrun by hordes of dealers all doing the same thing," stated Watson. "So we established Pescado to offer account management, to which we added other products and services such as fixed and connectivity. Following our acquisition of Pure IT systems in 2015 we were able to provide end-to-end solutions. We'd like to acquire more right-fit fixed line and IT businesses."
Watson's first foray into the comms market was a spell working for airtime provider Singlepoint as a Sales Manager in 2001. The company was owned by John Caudwell who sold the business to Vodafone in 2003 for £405 million. "The Caudwell Group encouraged flexibility in your role and during my time there I got to see lots of different areas, which gets you thinking," stated Watson. "When Singlepoint sold to Vodafone I left and joined Mainline as Sales and Marketing Director before setting up Pescado."
Dedicated services are not just for big businesses, they are for everyone
Pescado now holds Microsoft Gold Data Centre and Microsoft Gold Small and Midmarket Cloud solution status, and is a Vodafone Total Communications Partner, EE Direct Business Partner, Microsoft Gold Partner, Vodafone Fixed Line Service Partner, as well as having supplier agreements with Dell, Vanilla IP, TalkTalk Business and Gamma.
"I'm seeing a huge conversion around connectivity," commented Watson. "It's a commoditised market and businesses see the importance of constantly being connected. Dedicated services are not just for big businesses, they are for everyone. So we focus on connectivity and cloud services such as Pescado Ola VoIP and IT offerings."
Watson's current priorities are to continue driving multiple product sets into new and existing customers. "We do this well and the opportunity is still enormous," he added. "With more and more customers happy to self-serve nowadays the opportunity must be grabbed. We are constantly looking to see what we can make slicker or easier for our customers and ourselves. The challenge is always gaining and retaining great people. We are lucky to have a core of key people in the business but it takes a lot of time searching."
According to Watson, the IT reseller market is 'refreshing'. "You can ask for support and register deals so the back end vendor can see who got there first," he stated. "There is structure and order, which is a welcome change from the mobile world where throats are cut by the day in a pointless race to the bottom. If the operators allow us to bill customers ourselves as we do with data SIMs for example, the churn cycle will slow and customers will benefit from joined up solutions which means they'll be stickier for longer. But mobile networks can be fickle. One day they want to play and the next day they've kicked the goal posts over and punctured the ball. So our focus is always stability and avoiding the need to make knee-jerk decisions."
That said, an exception to the rule proved transformational for Pescado. "A big turning point for us was a meeting with Vodafone's Rob Mukherjee in 2010," explained Watson. "We had been selling a few connections but needed help doing more, and agreed a structure that freed up our cash and allowed us to recruit more sales staff. In return we committed to placing business with Vodafone. We felt someone wanted to support us rather than the typical anti-relationship and transactional scenario which stifles creativity and ambition. I am eternally grateful for that opportunity. If you pick your partners wisely they should come through for you."
Picking a good role model is also key, and the father of a school friend provided Watson with a burst of inspiration and ambition that remains a spur even to this day. "My friend's dad began work by sweeping the floor in a paper mill," recalled Watson. "The business owner was so impressed by his work ethic he bequeathed his shares to him. Following the owner's death he grew the business from the bottom up, getting hands-on with all the jobs and he thrived in life. Before he died I often visited his house, avoided the vicious Airedale Terrier and talked to him about how he succeeded. I always wanted to be like him, and now own an Airedale Terrier myself."