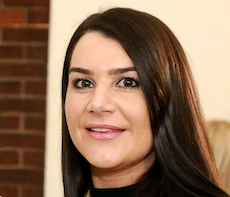 Having thrived in a highly paid job, TinCan Comms Managing Director Amy Mitchell's decision to strike out on her own shows the depth of her ambition.
How did you get into comms?
By accident. I was working as a travel agent when the person I was booking holidays for asked me to work for him. I started as a fact-finder and data collector making 150 calls a day, before changing to telesales and eventually becoming UK Sales Manager for the business. Corporate sales wasn't really me, so I thought it was time to go on my own.
How risky was the move to strike out on your own?
Very. Walking away from a high salary job I was doing comfortably in to start my own business was made even more difficult thanks to a clause in my previous contract that wouldn't allow me to work in the sector for a long period of time. Undeterred, I had £1,000 in the business account and off I went. TinCan Comms was born in 2016 with a business partner, a relationship that lasted about three months.
What was the biggest challenge you faced?
Losing my business partner within three months of going on our own was a big challenge. What can be a very lonely experience was immediately heightened, but I used the experience to spur me on and achieve what I wanted to do. I persevered and grew the company by focusing on customer service and ensuring we developed strategic partnerships with our clients. Telecoms had started to get a reputation for behaving like the used car sales or double glazing sectors, and I wanted to change that.
What have been the main turning points?
Getting our suppliers right was key. We made mistakes at the beginning and went with friends of friends, which led to real issues and we paid for it with customers threatening to leave if we didn't change things. Now we are surrounded by excellent suppliers and are able to concentrate on growing the business.
How fast is TinCan Comms growing?
We have grown 320 per cent since 2017 and, with ambitious expansion plans in place, we expect to increase turnover by 600 per cent between now and 2023. In the future, we may look to collaborate with or acquire like-minded businesses to support our growth. We also see expansion coming from understanding our customers and how tailored communications can help them reach their potential. There's lots of new technology entering the marketplace and we will look to grow our business by matching these advancements with the requirements of our clients.
How do you see the impact of Covid-19 on the workplace?
The current pandemic has changed the way people work as we know it. Technology that allows home working, total flexibility and virtual meetings has been around for years, but for some reason has always seemed out of reach for smaller businesses. Overnight this reluctance has changed and cloud-based softwares FaceTime, Zoom, Microsoft Teams and Houseparty are now a fixture of everyday life. Going forward, I think people will be asking for this technology before we can get our sales pads out. They'll be opening conversations with 'does it plug-and-play at home?', 'Can I see my whole team on screen?', 'Do I have to travel to that sales meeting 200 miles away?'.
Is the comms sector at a watershed moment?
Key questions have come to the fore: Will the flexibility of hosted and cloud products finally sell themselves over the traditional on-premises telephone system? Is what was once deemed safe, traditional and a necessity now changed in the eyes of the customer? New collaborations and development projects will be accelerated as a result of the Covid-19 pandemic. For TinCan Comms, we have everything we need to become one of the Midlands' leading telecoms service providers. And our close-knit team and agility means we can support customers quickly when larger firms are too slow to move. 
Just a minute with Amy Mitchell...
Role model:
I like people who have a real rags to riches tale, such as Alan Sugar, so I'll go with him.
Your main strength and what could you work on?
I have a genuine interest in people and what makes them tick. This is my biggest strength, but it can also be a weakness as my desire to find out more means I can sometimes come across as a little nosey.
Best piece of advice you have been given?
If you think you can do something, you normally can!
If you weren't in comms what would you be doing?
I always wanted to run my own business, but, if pushed, as I went to drama college I'd be on the West End. Or, I always fancied a part in EastEnders.
How do you relax when not working?
You're never off duty when running your own business. But overseas holidays are the best way to completely relax, or walking Rosie – you may have seen her on the TinCan social media accounts.