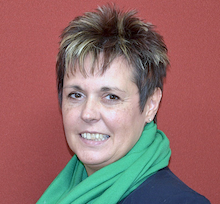 Amid the hullabaloo of wall-to-wall digitalisation, Eurolink Connect Managing Director Claire Maddox proves that deep convictions about fundamental business values still count most.
Becoming an ISP in 2009 changed the face and fortunes of Eurolink Connect overnight. But to create growth from grand projects like this takes more than strategy and ambition, it takes supply-side customer care, which Maddox displays in spadefuls. "Having been in operations before I moved into the telecoms sector I'd been on the receiving end of poor comms advice and had a real understanding of what businesses are looking for," she stated. "Being able to view things from the customer's point of view has always been the way I've operated, and over time I've built up my technical knowledge to match my customer understanding."
Eurolink Connect was established in 1999 as Eurolink Telecom, providing companies with cheaper telephone minutes. "The business model was fantastic and straightforward with no stock and a simple concept delivering good margins," added Maddox. "As the industry evolved so did Eurolink and we became an early adopter of WLR and mobile, before setting up a recurring revenue model with the addition of telephone systems being the icing on the cake. This prepared us for the changing market as more and more businesses move to the concept of opex."
These days Eurolink Connect provides telecoms, connectivity, networking, IT and mobile solutions. All of these product categories are critical and build on the firm's pivotal evolution as an ISP ten years ago. "It was a game changing year," said Maddox. "Being experts in connectivity naturally moved us into the networking space where we now support customers within their local area network as well as the WAN. We have been able to develop products including our ISP in a Box for MDUs.
"As an ISP we can get to the root causes of customer issues without having to wait for third party suppliers. We are positioned alongside brands such as Virgin, BT and Vodafone at industry development meetings. With this investment embedded in the business we are now able to develop specific solutions for our customers with safe Internet access and fully managed SD-WAN."
Eurolink Connect has operated in the retirement sector for over 13 years and its evolving ISP in a Box solution delivers safe connectivity to residents. This particular market is full of promise. "We have a massive growth opportunity with this product, which allows us to fill the gaps where FTTx roll outs to remote sites fails," commented Maddox. "We are now specialists in the care and retirement sectors, where we have designed offerings through our ISP status for residents as well as the main business."
We earn respect whether we are male or female, and it is encouraging to see so many young women in the industry
Eurolink Connect's growth is organic, and through referred business the company generates a steady five to seven per cent increase in revenue year-on-year. Staffing levels have increased by 25 per cent in the past two years, mainly because the company has brought outsourced services in-house to complement its offerings around IT and security. According to Maddox, Eurolink Connect was one of the first businesses in the country to achieve the ISO27001: 2013 Certificate. "We take security and cyber risk very seriously and the ISO accreditation has helped our team to understand and mitigate the risks, and to ensure that we pass annual cyber penetration tests with flying colours," added Maddox. "Our culture is shaped around data security, enabling us to support our customers with the same best practices."
With the transition to all IP, Maddox expects to see significant changes in the supply chain as WLR3 is withdrawn, and Eurolink Connect provides its customers with more products utilising data and mobile networks. "The move to mobile working is another major influencing factor, as well as cyber security," added Maddox. "We have spent much of our R&D in these areas creating solutions.
"We believe the modern workplace will be mobile and that users will be reliant on the one device that they can connect with their business, anywhere in the world. We are therefore aligning our business so that our portfolio of products can provide choice and flexibility, particularly as we see vast differences between the generations and how they choose to consume technology. It is important we can support it all."
For Eurolink Connect, IoT will be another key technology together with 5G and full fibre. "Many customers are embracing new technology unaware of the cyber and privacy risks,"added Maddox. "So our connectivity model is very much about security and developing our team through education. We provide an important service and if our staff understand the issues and enjoy what they are doing, they see opportunities to help customers and build business. I've been instrumental in seeing young people flourish which is an area I love."
Recognition follows effort, commitment and results, and Maddox, who is a woman of strong will, has always stood in good stead. "It's not easy operating in what has been viewed as a 'man's world', but it is all about being professional and demonstrating that you deserve to be there," she added. "I have always been strong willed and embraced opportunities. We earn respect whether we are male or female and it is encouraging to see so many young women entering the industry. There is a place for anyone who wants to be taken seriously."
Just a minute with Claire Maddox
Role model
A lady called Pat Mealing who I worked with in my early 20s at the RAC. She was focused and fair, set high standards and understood emotional intelligence
What talent do you wish you had?
To create paintings or sculptures
Tell us something about yourself we don't know
I won a Blue Peter badge in the 1970s for a drawing that was exhibited in Tokyo
Three ideal dinner guests
Julie Walters, Tom Hanks and David Attenborough
Your main strength and what could you work on?
Stubbornness is both my strength and weakness. I can dig my heels in, but also have the determination to drive things forward
 
How would you like to be remembered?
For kindness in helping others, bringing laughter and smiles
One thing you couldn't do without in your job?
A good sense of humour
Best piece of advice you have been given?
A smile costs nothing and brings warmth to others
 
What possession could you not live without?
Beautiful shoes
If you weren't in IT what would you be doing?
Involved in a small charity that makes a difference to people
Your greatest achievement
Getting my BA in Business Enterprise in 2004
What's the biggest risk you have taken and why?
Galloping across fields on horseback unaware of the risks
How do you relax when not working?
Walking my two puppy dogs and a glass of wine with friends
Top tip for resellers
Embrace the changes that are coming our way. We're about to go through another great transition