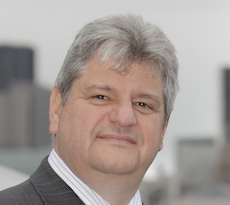 Qubic founder Chris Papa has once again shown a knack for innovating with foresight and being quick out of the blocks with in-demand solutions.  
Chris Papa is a highly appropriate name for a man who has been a father of invention within the telecoms industry for over 30 years and his latest breakthrough aims to give resellers total ownership of fully integrated Mitel-Microsoft Teams estates. Qubic, the company Papa founded alongside brother Joe in 1994, is a Microsoft Gold Partner and one of a handful of system integrators granted permission by Mitel to build bespoke customer solutions.
With this pedigree, Papa believes his company is now perfectly placed to team up with resellers looking to protect margins from major customer deployments. "We have always had the two strings to our bow," he said. "As well as being a Mitel Build Partner, we are a Microsoft Gold Partner in Small and Midmarket Cloud Solutions and Cloud Productivity. It's two-pronged – the traditional telephony organisations on one side and Microsoft Teams telephony on the other. Microsoft is really pushing its Teams telephony offering with a bundled call plan, effectively reducing any reseller margin opportunity."
Papa rails against certain shifts in vendor and partner paradigms, claiming some manufacturers are making a 'land-grab' for the customer relationship and the lion's share of the margin. For him, the opposite will always stand true. "We fully understand resellers want to own customer contracts to build value in their businesses, and within our Mitel Partner Build agreement we can build systems for resellers and allow them to keep the billing relationship with their customer, which means much bigger margins," he said.
We became known as a creator of technical solutions both with end users and in the channel. That was our value add
With its combined voice and data expertise, Qubic (which started out as Ambient Communications) has been a long-term exponent of Microsoft's telephony offering and built and deployed a worldwide telephony platform based on Microsoft Lync for a client over 10-years ago. Long before that, the technical knowledge of Ambient's TiVD (Total Integration of Voice & Data) team enabled Lucent to interface its SDX telephony products with data networks as the company did not have in-house expertise in the UK. And, in 1995, the same team delivered an international VoIP solution well ahead of its time.
"We became known as a creator of technical solutions both with end users and in the channel," added Papa. "That was our value add. We were also well ahead of the curve with the adoption of cloud. We had invested heavily and built our own hosted environment across multiple data centres with multiple interconnects. We were at the forefront of virtualising Mitel instances, long before Mitel was offering a hosted service.
"In tandem, we started taking 'wires-only' circuits from a range of Tier 1 carriers that connected straight to our core in the data centres without crossing the public Internet, and then out through SIP, so we were giving users a 'near LAN' experience, even over ADSL."
Alongside the voice offering, Papa had his vcloud computing platform in place well before Microsoft 365, Azure or AWS were even thought of. "When Microsoft launched its Teams telephony products last year we were quickly able to provide a Teams Direct routing platform that uses technology in our cloud to route calls to and from Teams over SIP, so we could capture the call revenue instead of Microsoft," he added. "Using that same technology we can also fully integrate Teams with Mitel or other telephony platforms."
In the past, as Papa explained, Qubic has helped resellers lacking expertise and resources, or the size and scale to secure manufacture accreditations. "Our offer effectively gave them a 'leg-up', but we always made sure they maintained their billing relationship with the end user and were there to provide support at whatever level they needed. We also engaged with companies outside the comms industry that had a business customer base in an allied sector such as facilities management or office equipment."
With change coming, Papa believes resellers will have to get smarter and add value by offering wrap around services like VoIP fraud prevention, cyber security, or professional services. "We are already having success in Augmented Reality (AR), Artificial Intelligent (AI), IoT, Big Data and are building relationships with organisations that can deliver new emerging technologies to us," he said.
"In one sense, nothing has changed since the early days of Ambient and TiVD. We are ahead of the technology curve and we're gearing up for what is to come by investing in technology and expertise as well as building relationships. "We can offer Mitel Partner Build, Teams Direct Routing and Teams to Mitel integration right now, allowing reseller partners to add value, increase margin and maintain ownership of the relationship."