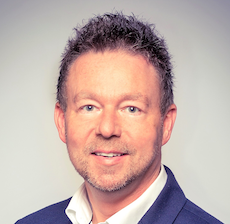 Introducing Uplands, this year's Comms National Awards SME Reseller of the Year (one of two gongs won) and a benchmark for service delivery at its best, spearheaded by business owner and Managing Director Paul Hooper.
Hooper's trump card when he entered the comms sector was having a knowledge of people, rather than marching in as a technology buff. He first worked in technical training and personnel for the Halfords motor group, part of the integration team between Halfords and Boots the chemist. The move to Uplands was a 'huge leap of faith', with no knowledge of technology but well armed with great insight into people and an interest in how communications and technology could improve peoples' lives. "I joined Uplands over 25 years ago and just like Victor Kiam I liked the business so much I bought it," said Hooper.
Uplands was established in Swansea in 1979 when it was known as Uplands Car Radios, a car audio and multimedia provider. In 1984 the company entered the mobile market providing its first mobile phone, the state-of-the-art Motorola Transportable 4500X, to a butcher in Cardiff. "As the mobile industry grew so did we," added Hooper. "Anyone who knows Uplands today would see us as a B2B UC provider, but it is not where our journey started. Uplands for many years had its feet firmly in retail. For over six years we operated through 89 Debenhams stores, 56 House of Fraser stores as well as partnering with the likes of Benneton in the UK and Europe. With a proliferation of mobile on the High Street, we timed our exit from consumer to business and have never looked back."
Uplands entered the B2B market in 2009, becoming an O2 Direct Partner, one of only 22 in the UK and exclusive within the south west and Wales. "Now we have embraced emerging technologies to become a true UC provider," added Hooper. "One of the big changes we have seen is the customer requirement for a single unified operating solution. Our conversations are always UC centric and focused on enabling customers to work with greater fluidity and control. This is what underpins our proposition which includes a portal that enables customers to make changes to their account with the click of a button. We also know that our customers value the personal touch."
I joined Uplands over 25 years ago and just like Victor Kiam I liked the business so much I bought it
At the core of Uplands' mobile proposition is its O2 Direct Partner relationship, enabling it to deliver airtime solutions and business applications. Notably, Uplands' second Comms National Award win this year was in the SME mobile solution category. "Despite the rise of many other products and services mobile remains for many businesses the remote control for everything," said Hooper. "We are still seeing growth in mobile, however one size doesn't fit all so we also deliver EE and Vodafone services along with IoT.
"There is also a greater need for business collaboration and seamless remote working. Our hosted solutions, Internet and fixed line services are delivered by our partnership with Gamma, and IT services are sourced from various partners such as McAfee and Office 365. The proposition is continually evolving. Our focus for the future is very much on integration and we are seeing greater requirements for IoT and automation, particularly IoT and its involvement in renewables and greener sectors."
Housed in its new headquarters, Uplands is poised for a fresh phase of organic growth that will also drive an expansion of the workforce. "We operate a five year business plan and are on track to achieve our goals," said Hooper. "The important thing will be to ensure that we hit our targets but never at the cost of service. I have always wanted to deliver not just excellent service, but legendary."