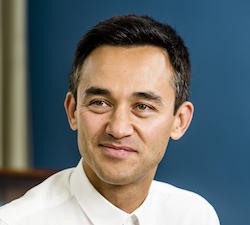 Block CEO Marc Chang was always likely to set up and run his own business, but it was the Melissa Worm that proved a critical turning point on his pathway to success in the tech sector.
From the health service to retail, Block has become a marker in the deployment of advanced tech solutions. But Chang did not originally intend to follow a career path in tech, having studied economics before kicking off a career in finance. "That didn't excite me," he said. "However, I was interested in the technology used by the bank and enjoyed figuring out how it worked and building improved ways of working. In the mid-90s it struck me that technology was going to revolutionise companies, the wider economy and society. So I decided to jack in my job and study Analysis Design and Management of Information Systems.
"For me, examining the relationship between people and technology-based systems was fascinating. I quickly gained an appreciation for the complexity of it all at a time when the IT profession was in its infancy and there was a catalogue of large project failures. Against this backdrop I learned in theory how to design for success."
Nearly broke and with substantial loans to pay off Chang applied for positions at the big consultancies and took a temporary job at COLT Telecom for one day, working on the service desk. The move proved to be a significant catalyst: His impressive response to an immense challenge  translated into clear signs of personal potential that did not go unnoticed.
"It was carnage," explained Chang. "Due to sickness and annual leave there was two of us supporting several thousand users and the Melissa Worm had infected the entire PC estate throughout Europe. I was invited back the next day, then for two weeks, and eventually offered a permanent role with a promise to fast-track me through the IT department. I accepted. I wanted to work in the networking team as that was where all the action was. This was at the time of the dotcom bubble which eventually burst. I decided to take what I had learned and apply it to the NHS where I could do something positive and make a difference."
I wanted to work in the networking team as that was where all the action was
Chang founded Block in 2006 with Jonathan Pickering, a former colleague at COLT. "Our first client was Guy's and St Thomas' NHS Foundation Trust where we were engaged to deliver the design and installation of the new Evelina Childrens Hospital network, along with the new Picture Archiving and Communication System (PACS) infrastructure," he added. "The project was a success, but it was not without its challenges.
"It became clear that our approach, experience and expertise combined could make a difference within the NHS at a time when Blair's Government was beginning to make significant technology investments through the NPfIT programme. As a result of the project's success we were then asked by the Trust to provide the strategic consultancy required for a site-wide network integration and transformation project."
Although Block began as a consultancy Chang felt that after a couple of years he could be more effective and impactful for clients by having access to vendor roadmaps, particularly Cisco. Block became a Cisco Gold partner and continued to focus and invest on its healthcare specialism, while extending its capabilities into other technologies such as UC, data centre and end user compute.
"As a techie at heart, innovation has always been a fundamental part of our make-up," noted Chang. "Over the years, we seem to have made Cisco's Solution Innovation Award our own, also winning at a global level. This is something I'm proud of."
Block's innovative approach also dovetails with Big Retail (shopping centres and large concession-based department stores). "Blending our vertical focus with our horizontal technology expertise has enabled us to successfully maintain success in these core industries over the last few years," he commented.
Our goal has been to do our bit to save the NHS along with the high street. Both have significant challenges while also providing critical services to our communities
In 2017 Chang became CEO, following the departure of Pickering. "I wanted to take the business forward with a focus on growth and profitability, and this became a significant turning point for both me and Block," commented Chang. "Since becoming CEO I've tried to make Block a great place for our people to work, live and grow, while also creating a solid operational platform for growth."
During the past three years Block has moved from a turnover of £23 million to £38 million and increased EBITDA from circa £600k to £4.3 million. The group now employs around 150 people. As part of his strategy Chang acquired and integrated Innov8 in 2018 and Connect-IP in 2019. This enabled the company to enhance its ability to serve the health and care market and increase its capacity to deliver at a much larger scale. More recently Chang founded Socura, a cybersecurity partner which provides advisory and advanced detection and response cyber services.
"Our group strategy focuses on forming capability and capacity through organic growth and acquisition," added Chang. "I have always believed in a vertically focused approach and our goal has been to do our bit to support the NHS along with the high street. Both have significant challenges while also providing critical services to our communities. We have developed a portfolio and partner model that aligns with these challenges and tried to be ahead of the market in terms of technology transitions."
Chang cited his move into Software Defined Networks as a good example of this strategy. Block has designed, installed and managed hundreds of wired and wireless networks since inception, and with the advent of the IoT and the high number of unmanaged devices within healthcare and retail, the company has invested heavily in Cisco's SDA solution and, says Chang, become the country's specialists in delivering it across healthcare."
Chang is also looking into AI and intelligent automation as well as the IoT. "We are considering how they add features or better services to our clients," he added. "For instance, assessing how we can provide contextual-based intelligent automation within an office or hospital floor to keep the lights, HVAC and IT off if no one has entered, even if the lights come on at 8am automatically."
Chang also took a lead following the Covid-19 outbreak, playing a key role in deploying the infrastructure at London's 4,000 bed Nightingale Hospital in just seven days. "We were involved in several national programmes to help the NHS, from helping GPs to perform consultations from home with full clinical application stacks to the higher profile Nightingale hospitals," he said. "All of the entire Block team were involved in making that happen."
As part of his crisis response strategy Chang introduced initiatives to re-platform some of Block's solutions and services, such as adapting the healthcare collaboration solution to integrate with Microsoft Teams. "We also re-platformed our VDI solution into the cloud to enable quicker and more cost-effective deployment," he commented. "We can now deliver a single full stack clinical desktop within one hour from start and you can pay for just one month. This drastically changed how organisations were able to respond during the Covid-19 lockdown and will drive ongoing change moving forward."
As a business leader, Chang says the pandemic has prompted him to become more transparent and open in his approach. "There is a tendency to try and be overly positive and keep potential negative news away from your team," he said. "For us, it's been honesty that's made the difference. We've made decisions together as a team, and allowed our people to make their own decisions when it comes to their personal and home lives."
Just a minute with Marc Chang...
Role models:
Kenny Dalglish. Beyond football, I watched him lead not just our club but our entire city through Hillsborough, attending every single funeral and supporting each family. Kenny fought for justice, stuck by those families every step of the way and transcended football. That's what makes him a role model to me. I also look up to those who fought against discrimination, injustice and racial prejudice – Nelson Mandela and Martin Luther King Jr, Mahatma Ghandi. And my father. He fought with the north west Chinese community to have the British Government formally apologise for the forced repatriation of their fathers (my grandfather) after they had served during the second world war in the merchant navy, leaving their families behind. There is a plaque of apology near Liverpool Pier Head.
What do you fear most?
Failure. That's always been the biggest motivation in my life and driven me to always improve and never stop.
What possession could you not live without?
Right now my Theragun. I am training for a 5k race which means I am exercising every day and without its healing and massaging I don't think I would be able to walk at the moment!
Best piece of advice you have been given?
Perception trumps reality. It doesn't matter if you know you are right, if someone believes you are wrong, it wins every time. Life is often not black and white but a question of viewpoint. Part of working with clients or employees is to listen and to educate, to show a more complete picture or different ways of viewing the world. That approach helps when building team diversity and cohesion.
Who do you admire most in the channel?
Martin Hellawell. To see Softcat grow organically and profitably over the years to over £1 billion and listed on the FTSE is incredible. The number of tech careers Softcat has created and the charitable work it does is also admiral. Martin has always been humble and generous with his time and advice.
If you weren't in the ICT industry what would you be doing?
I would certainly be running my own business as I enjoy bringing my ideas to life and am not sure I could work for someone else after 15 years. It would likely be food related. I love my food and also fresh produce.
Name three ideal dinner guests:
John Lennon: I grew up next to where he did near strawberry fields and went to school on Penny Lane. Oprah Winfrey for so many reasons; and Steve Jobs, the obvious tech idol.
Your main strength and what could you work on?
I am good at spotting a new opportunity and working out how we can make a great product to address it. But I can be impatient and sometimes I could do with listening a little more.
Top tip for resellers:
Be yourself and keep it simple. Find what you are good at that differentiates your proposition and be true to that.
Tell us something about yourself we don't know:
I used to DJ when I was younger and played several well known nightclubs. During lockdown I reignited the passion and played on Twitch with other Block DJs as part of a Block Rockin' Beats digital festival.
How do you relax?
I like to play football with my children, walk the dog, create DJ mixes and I recently built a 7,000-plus piece Lego Millennium Falcon.