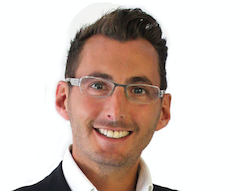 TelcoSwitch has kicked off the new year with a £4m growth capital funding deal that signals the hosted comms provider's intent to drive expansion via M&A and organic channel growth.
The deal is TelcoSwitch's first external funding round which raised £2.5m through BOOST&Co. The remaining £1.5m has been raised via existing long-term investors.
"The investment advances our planned M&A activities, with three acquisitions underway in exclusivity, to broaden the technology portfolio and increase the customer base," stated Russell Lux (pictured), TelcoSwitch founder and CEO.
"We've worked hard to get to this point and now have a supportive partner in BOOST&Co to help us drive the business forward, continue acquiring other relevant businesses and accelerate the growth of our base."
Kim Martin, Principal at BOOST&Co added: "TelcoSwitch is focused on investing in growth, which will also lead to the creation of new jobs at a time when unemployment is on the rise."
The company plans to double its office space to house up to 100 employees across sales, account management and support functions.